The Greatest Salted Chocolate Chip Cookies
Ladies and gents, this is the moment you've waited for. The Greatest Chocolate Chip Cookie of all time. I'm back from a lengthy hiatus and I'm bringing my A game with this recipe that I have been perfecting over the past few months. It's a bold statement to say this is the Greatest salted chocolate chip cookie recipe. Dare I say, the GOAT? The Tom Brady and Simone Biles of Chocolate Chip cookie recipes? Yep. I said it. One bite and your taste buds will be doing an end zone touchdown dance (did I say that right? #sports). With each bite your taste buds will be doing a double layout half twist with the judges giving this cookie a perfect 10 all around. Yes. This is what you've been missing all your life: The Greatest Chocolate Chip Cookie Recipe.
So I've been MIA on here for a few months. I don't think I need to explain too much beyond the general state of the world. I'm still reconciling the fact we thought it was wild that we were going to work from home in March 2020 for two whole weeks. And here we are, 18 months later – and the world is kind of a burning dumpster fire … still. And while Zoom is quite an amazing tool, after back to back nonstop Zoom meetings all day every single day for months on end, I avoid my personal laptop most evenings. Not to mention the Covid 15 was not motivating me to do a lot of recipe testing at home. Anyway, some of my long-time dedicated cookie connoisseur taste testers were back on the Cape this summer so I was inspired to start baking again this summer.
Usually I spend my summer taking advantage of my parents dream kitchen at the Cape to bake up my entire backlog of recipes for the fall. But this year, I decided to focus on quality over quantity and come back strong by perfecting my signature namesake salted chocolate chip cookie recipe. This is probably the 10th time I've made this recipe in the past two months so I feel very confident in saying this is true perfection.
So what makes these cookies the greatest of all time? Let's review.
(1) Premium Chocolate – No shade to Nestle (their OG Tollhouse recipe is solid and their chocolate is sweet) but I've noticed a major difference in my cookies when I started baking with Ghirardelli chocolate. Their grand baking chips are giant, and then I mix in milk chocolate as well.
(2) Maximize Your Chips – Most recipes call for about a cup and a half to two cups of chocolate chips. I truly jam in as many as the dough will hold before the cookies fall apart. Don't skimp on the chips, even though this recipe requires buying two bags. You can see in the photo above I always top the balls of dough with a few extra chips – that helps them with taste and makes them more photogenic.
(3) Vanilla Bean Paste – This vanilla bean paste isn't cheap, but again, we're going for quality here. I double the amount of vanilla used, even with the more potent paste over extract. It adds so much flavor along with the mix of chocolates.
(4) Coarse Sea Salt – They don't call me The Salted Cookie for nothing. Top your cookies with quality, coarse sea salt, and thank me later for changing your life for the better.
(5) CHILL – last and most important, when you have a recipe with melted butter you cannot skip the dough chilling step. The ideal is 3 hours. I lack patience so these work with 1 hour chill time at a minimum as well.
These are soft on the inside, not too thick, with crispy edges. You could brown the butter if you wanted to get fancy, but again, that requires patience. I also love that this recipe can be made in one large mixing bowl with a wooden spoon and some elbow grease, or a cheap hand mixer.
Let's all embrace upcoming sweater weather together by baking up multiple batches of the greatest chocolate chip cookies of all time. In the words of Hugh Jackman, It's everything you ever want, It's everything you ever need. #TheGreatestCookie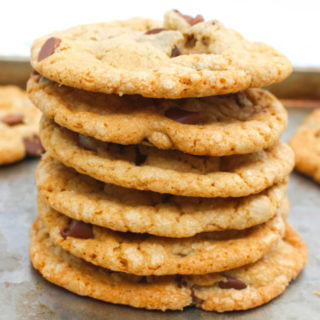 Yield: 24-30 Medium Cookies
The Greatest Chocolate Chip Cookies
Total Time
1 hour
30 minutes
This is the one and only chocolate chip cookie recipe that you need in your life. Salty, sweet, perfection, in one bowl.
Ingredients
2 sticks salted butter, melted and cooled
1 cup light brown sugar
1/2 cup granulated sugar
2 eggs, room temperature
2 teaspoons vanilla bean paste (or vanilla extract)
2 1/4 cups all-purpose flour
1 1/2 teaspoons baking soda
1 1/2 teaspoons baking powder
1 tablespoon cornstarch
2 cups Ghirardelli Grand Semi-Sweet Baking Chips
1 cup Ghirardelli Milk Chocolate Premium Baking Chips
For topping:
1/2 cup Ghirardelli Milk Chocolate Premium Baking Chips
2 tablespoons coarse sea salt
Instructions
In a large bowl with a hand mixer, beat together the cooled melted butter and sugars.
Add in the vanilla bean paste and 2 eggs and continue to beat for about 2 minutes. Scrape the sides of the bowl before adding the dry ingredients.
Sift (or just mix) together the dry ingredients - flour, baking soda, baking powder, and cornstarch - and slowly mix into the wet batter just until they are incorporated.
Fold in the semi-sweet and 1 cup of the milk chocolate chips until they are evenly distributed.
CHILL the dough for 1-3 hours. Do not skip this step.
Preheat the oven to 375 degrees F. Line large baking sheets with parchment paper or sil-pat liners. Use a medium cookie scoop to place even-size balls of dough at least two inches apart. Do not crowd the sheet pan, or press down the dough.
Sprinkle each ball of dough generously with coarse sea salt and lightly press 3-5 milk chocolate chips on top.
Bake at 375 degrees for 12-15 minutes, until the cookies are lightly golden. I rotate the trays halfway through to ensure even baking in my oven. Let the cookies sit on the tray for a few minutes outside the oven before moving to a wire rack to finish cooling. Enjoy!