Kitchen Sink Cookies
Everything but the kitchen sink. No, I'm not describing what I ate this rainy Boston weekend (well … maybe not). I'm talking about this delicious cookie recipe that lets you take all of those half opened bags of chocolate chips, potato chips, nuts and candy and put them to good use. Well, better use than ransacking your kitchen when a bout of hanger strikes. I was recently doing a little spring cleaning through my baking drawer and cabinet and came across a half eaten box of Peanut M&Ms, some cocktail peanuts leftover from a different cookie recipe, some mini Heath toffee bits that I needed to stop snacking on and of course, some ridged salt and pepper potato chips. I figured it was worth a try to whip up a chocolate chip cookie base and throw all of these mix-ins into the batter and see what came out. The result? A delicious sweet and salty crunchy cookie that leaves your taste buds playing a game of "guess that ingredient."
Experimenting with random mix-ins has always been something I enjoyed. It all started back in the day when going to Burger King was a real treat and we'd make our own concocations at the soda machine, usually mixing orange soda, root beer, sprite and coke together to see what it tasted like. Kids these days don't know how good they have it with those Coca Cola freestyle machines where the combinations are limitless. Now that I'm an adult (not by choice) I am conservative with my mix-ins – usually just a combination of Diet Coke and Diet Cherry Coke. My 8-year old self would be shaking her head at me in disappointment. The other combo we used to love as kids was when we had a new babysitter, my brother and I would put a whole bunch of random stuff from the cabinets into the blender and tell the babysitter my parents would definitely let my sister drink it. (Sorry Kristen!)
So it should not come as any surprise that I'm a big fan of experimenting with all types of mix-ins when baking. In fact my first original cookie recipe came as a result of forgetting to check my ingredients before making Oatmeal Raisin Cookies and improvising with some white chocolate chips and Crasins. For these Kitchen Sink cookies, I used Peanut M&Ms, toffee bits, chopped peanuts and crushed potato chips. Other ingredients that I think would work in any combo: crushed pretzels, chocolate chips, butterscotch chips, peanut butter chips, milk duds, raisinettes, Rice Krispies, Crasins, coconut, walnuts, Oreos, or even sprinkles. The sky is the limit with this recipe.
What I love about these Kitchen Sink cookies is that you can really get creative with your ingredients and there's a solid chance that they will still taste delicious. Plus I love being able to get use out of all of the ingredients and food items in my kitchen, because it's so annoying when you just have that 1/2 cup of chocolate chips or few handfuls of M&Ms left around. So much less judgement to enjoy them in a cookie than eating them by the handful in your kitchen. (not that any of us have ever done that … right?)
I brought this batch to my coworkers in Florida a few weeks back to officially induct them into my group of loyal taste testers. Plus, when you get hangry coworkers in a conference room they will literally eat anything. Even a half licked bag of week-old Doritos, I'm pretty certain. But guess what? They said these cookies were better than a week-old half licked bag of Doritos! So I'll take that as a win.
They also traveled really well, even though I smushed them into my tightly-packed carry-on. And I would definitely recommend them as a summer BBQ cookie since they withstood the travel and the Florida heat, and also tasted pretty good two days later when there were still crumbs left in the bag in our conference room, that no one had any shame in finishing off. So if you are a kid at heart and love to experiment like me, whip up a batch of these Kitchen Sink cookies with whatever ingredients you have in your kitchen!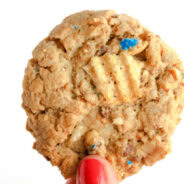 Kitchen Sink Cookies
Yield: 4 dozen cookies
Prep Time: 15 Minutes
Cook Time: 12 Minutes (Per Batch)
Total Time: 45 Minutes
These cookies are filled with everything but the kitchen sink! A delicious combination of sweet and salty using up lots of different ingredients from the kitchen.
Ingredients:
1 cup (2 sticks) butter, softened
1 cup granulated sugar
1 cup light brown sugar
2 eggs
2 teaspoons vanilla extract
2 cups all-purpose flour
2 1/2 cups oats, finely ground
1 teaspoon baking powder
1 teaspoon baking soda
1 teaspoon salt
1 cup Peanut M&Ms, coarsely chopped
1 cup salted peanuts, chopped
1 cup Heath toffee bits
1 cup ridged potato chips, crushed
Directions:
Preheat the oven to 375 degrees F.
Using an electric mixer, cream together the butter and sugars. Add in the eggs and vanilla extract and beat well. Scrape down the sides of the bowl before adding in the dry ingredients.
In a separate bowl, combine the flour, ground oats, baking soda, baking powder, and salt. Slowly add the dry ingredients into the wet batter, mixing on a low speed, just until incorporated.
Add in the M&Ms, chopped peanuts, toffee bits and potato chips for just a few seconds until the mix-ins are evenly distributed.
On a sil-pat or parchment-lined baking sheet, use a medium cookie scoop to place even-sized balls of dough at least an inch apart. Bake for 10-12 minutes at 375 degrees F.
Let the cookies cool on the cookie sheet for a few minutes before transferring to a wire cooling rack. Enjoy!