Cranberry Walnut Granola
With Halloween Candy around every office corner, I thought it might be a good time to bring in a bit of a healthier recipe this pumpkin-spice season. Though I must warn you, this Cranberry Walnut Granola might be more addicting than mini Reese's cups. This home baked treat is bursting with the healthy fall flavors of rolled oats, walnuts, maple syrup, coconut, pumpkin seeds and dried cranberries. It pairs perfectly with yogurt for breakfast, over ice cream for a late night treat, or my personal favorite, straight from the bag by the spoonful to my face. It's really just that dang good.
This granola recipe is unreal. I have a solid base recipe that I've been modifying with different flavors. Last fall I made Pumpkin Spice Granola, and then this Snickerdoodle Almond Butter Granola, and most recently this summer I made Blueberry Pecan Granola. Every version has the same base with rolled oats, brown sugar, maple syrup and olive oil, and then I just modify the nuts, fruit, seeds and whatever else I feel like throwing in there.
And every time, it is just so dang good. My mom affectionately dubbed this "crackola" because once you start snacking on it, it's so addicting you won't stop until the batch is gone. Speaking of my mom, this recipe is also naturally gluten free, so celiacs rejoice! Most gluten-free health food tastes like cardboard and styrofoam had a baby and called it gluten free, but this granola is on the total opposite side of the delicious food spectrum.
There are two things that I absolutely love the taste + smell of toasted: walnuts and coconut. And this granola has both. Especially with the maple syrup and brown sugar, it's like my Uncle Jimmy always says "forgetaboutit." This is definitely forgetaboutit good.
I would keep a mason jar or zip-loc bag of this granola in my freezer if I could trust myself to not eat it all in one night, so instead I gave it to one of my friends in my apartment building to take as soon as I finished photographing the recipe. But if you're unlike me and actually have self control, you can keep this longer in the fridge or put some in the freezer for safe keeping. So the next time you're looking for a delicious fall breakfast or flavorful snack, bake up a batch of this super easy Cranberry Walnut Granola. Enjoy!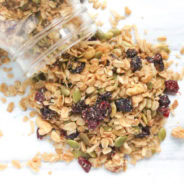 Cranberry Walnut Granola
Yield: 5 Cups
Prep Time: 10 Minutes
Cook Time: 30 Minutes
Total Time: 40 Minutes
Bursting with fall flavors, this homemade granola is the perfect way to start your day or curb an afternoon sweet tooth with this healthy snack!
Ingredients:
2 cups old-fashioned oats
1 cup coconut flakes
1 cup chopped walnuts
1/2 cup shelled pumpkin seeds
1 teaspoon sea salt flakes
1/2 teaspoon cinnamon
1/2 cup light brown sugar
1/3 cup maple syrup
1/3 cup extra virgin olive oil
3/4 cup dried cranberries
Directions:
Preheat the oven to 325 degrees F. Line a baking sheet with edges with a sil pat or parchment paper and set aside.
In a large bowl mix together the oats, coconut, walnuts, cinnamon and shelled pumpkin seeds.
Over low heat, gently whisk the sugar, maple syrup, and olive oil in a small saucepan just until the sugar has dissolved. Pour the liquid into the oat mixture using a spatula to evenly coat the dry ingredients.
Spread the granola over the prepared cookie sheet, sprinkle with sea salt and bake at 325 degrees for about 30 minutes until the granola is dry, stirring with a spatula a few times to ensure it bakes evenly.
Fold in the dried cranberries.
Allow to cool before storing in an air-tight container or mason jar. Enjoy!