Blueberry Lemon Bars
There's nothing better than fresh fruit in the summertime. Especially baked into a sweet and crunchy dessert. I'm still on a big blueberry kick and one of my all-time favorite flavor combinations is fresh blueberries and zesty lemon. And while I mostly like to bake fruit into breakfast treats like muffins and breads, I'm a big fan of making dessert bars that can double as a breakfast treat. These Blueberry Lemon Bars are the perfect combination of sweet and tangy with a delicious crumble to make the perfect summertime treat.
I was inspired to create this recipe after receiving a box of kitchen goodies from KitchenIQ including their Better Zester. Some of my pet peeves with trying to zest fresh fruit is that usually half of the zest ends up all over the table and not into the bowl. Or the fact that I typically zest off a chunk of my manicure in the process. The Better Zester includes a "fresh zest" storage container with squeegee which gathers the fresh zest as it's grating and removes the moist zest from the back of the blade. As an added bonus, the clear container is marked with measurements so it's easy to measure out just the right amount!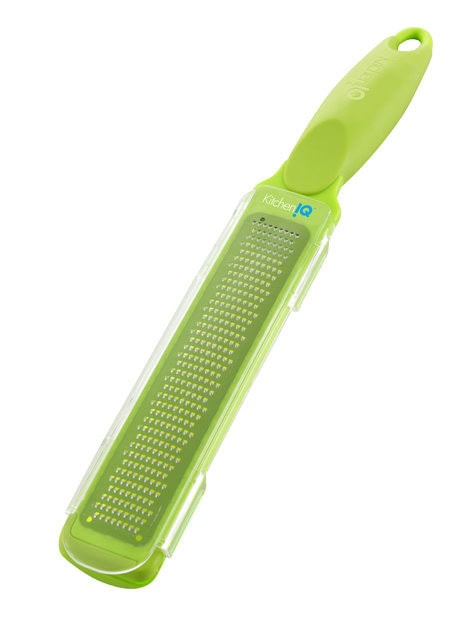 I adapted this recipe from one of my favorite bloggers – The Recipe Critic and opted to replace the sour cream in her recipe with Greek yogurt to lighten these up a bit. I love using Greek yogurt in recipes like this because the tang of the yogurt really compliments the tangy lemon flavor.
And I love how this treat is literally bursting at the seams with fresh juicy blueberries. With each fork full of this treat your taste buds are going to be doing a happy dance with the combination of tangy lemon and juicy blueberries.  
The recipe makes about nine generously-sized bars that are definitely better enjoyed with a fork instead of by hand. The creamy yogurt filling holds the fresh fruit in place between the crust and crumb topping, but they're a bit too big to enjoy hand-held.
So if you're looking for a delicious new summer dessert that doubles as a breakfast treat, whip up a batch of these Blueberry Lemon Bars and impress your friends with this sweet and tangy treat!
Blueberry Lemon Bars
Yield: 9 Bars
Prep Time: 20 Minutes
Cook Time: 25 Minutes
Total Time: 45 Minutes
Bursting with fresh blueberries and zesty lemon flavors, these are the perfect use for fresh blueberries this summer season!
Ingredients:
Crust
1/2 cup (1 stick) butter, melted
1/2 cup light brown sugar
1 1/2 cups all-purpose flour
1/2 teaspoon baking soda
1/2 teaspoon baking powder
1/4 teaspoon salt
1 tablespoon lemon zest
Filling
2 cups fresh blueberries, rinsed
3/4 cup granulated sugar
2 teaspoons cornstarch
1 tablespoon fresh lemon juice
1/2 cup plain Greek yogurt
1 tablespoon all-purpose flour
1/4 cup granulated sugar
1 egg
1 teaspoon vanilla extract
Directions:
Preheat the oven to 375 degrees F and line an 8x8 square dish with parchment paper and non-stick spray.
To make the crust, whisk together the flour, light brown sugar, baking soda, baking powder, salt and lemon zest. Add in the melted butter and mix with a wooden spoon until crumbly and the butter is incorporated. Set aside 3/4 of a cup of the dough in a separate bowl to use for topping later.
Press the remaining crust evenly into the bottom of the prepared baking dish.
In a small bowl, combine the fresh blueberries, sugar, cornstarch and lemon juice and set aside.
To make the filling, combine the Greek yogurt, sugar, flour, egg and vanilla extract. Spread the filling over the prepared crust.
Evenly spoon the fresh blueberry mixture over the yogurt filling. Sprinkle the remaining 3/4 cup of crust mixture over the top of the blueberries.
Bake at 375 degrees F for 25 minutes, or until the top is golden brown. Cool completely before serving. Enjoy!