Peanut Butter and Honey Chip Cookies
Ah the week between Christmas and New Years. A week of yoga pants, not blow drying my hair, and catching up on important things – like continuing my Netflix binge of Gilmore Girls. I mean can you just tell the difference between the Sunday scary version of me and this not-flying version of me? I've got relaxation seeping out of my pores. And I like it. Now don't get the wrong idea, I'm not sitting here in my yoga pants eating Chunky Monkey ice cream just watching TV. I am incapable of sitting still for more than 15 minutes, so I am jam packing in lots of things during the day so that I can Netflix in the evening. I was sitting in my half-bath today looking at the toliet paper holder getting aggravated that I could see where the old screw marks were from the last toliet paper holder. And within an hour I had 4 paint samples from Home Depot on the wall, a new toliet paper holder, and a Facebook poll trying to decide which color works best. I picked the color and painted the trim tonight after yoga – but you'll have to wait until tomorrow for the big reveal of which color I picked.
So cookies. I made a lot last week for Christmas. I also ate a lot of cookies last week. So I'm done with holiday cookies until next year. I almost thought for a second about making a healthy cookie since people will be making New Year's resolutions this week. But that thought lasted all of a second before I vetoed it. Because everyone wants a good last-supper fatty mc fatterson cookie before hitting the gym really hard for two weeks before resuming bicep curls with logs of cookie dough. So I started thinking of flavor combinations that I like and could turn into a cookie. I've been on a real honey kick lately. I like it in my hot tea, over roasted brussel sprouts (yum yum) and I'm newly addicted to putting a little honey over banana and peanut butter. Also when rummaging through my baking drawer of magic, I found a bunch of half used mini chocolate chips, chocolate chunks and mini M&Ms. So I figured I'll just throw it all into a cookie, close my eyes, cross my fingers, and hope it turns out okay. And by George I think I did it. By Skip? Eh, you get what I'm saying.
Ingredients:
1 cup butter, softened
1/4 cup granulated sugar
1 cup light brown sugar
3 teaspoons vanilla extract
1 egg + 1 egg yolk
3/4 cup creamy peanut butter
2 tablespoons honey

2 1/2 cups all-purpose flour

1 teaspoon baking soda

1/2 teaspoon salt

1 1/2 cups mini chocolate chips

3/4 cup mini M&Ms
Step 1: Preheat the oven to 350 degrees. Beat butter, granulated sugar, brown sugar on high until creamy. Add in vanilla, egg and egg yolk and continue to mix well.
Step 2: Beat in the the honey and peanut butter. Don't use natural peanut butter in this recipe, it's too oily and will mess up the consistency.
Step 3: Sift together the flour, baking soda, and salt and slowly add the dry ingredients to the wet batter until incorporated.
Step 4: On a low speed mix in the chocolate chips and M&Ms until evenly distributed, but be careful not to overmix. You can use anything you have on hand here. I wanted to use Reese's Pieces that Santa brought but I ate them. Oh well.
Step 5: Using a small cookie scoop, place even-size balls of dough on a sil-pat or parchment-lined baking sheet. I used the small cookie scoop here to make them mini, but you can make them regular size if you want. Bake at 350 degrees for about 9-11 minutes until they are just lightly golden. Let them cool on the baking sheet for a few minutes when you take them out of the oven before you transfer to the cooling rack. 
Sugar sugar, ba da ba da baa. Oh honey honey, ba da ba ba bahhh. You are my candy cookieeee and you got me wanting you. But for realz, these cookies are soft, chewy, sweet, salty, everything you want in a cookie all rolled into one. I was happily surprised when I took a bite of one of these that I could really taste the honey. And the honey, peanut butter chocolate combo – perfection. This was definitely a good cookie to end 2014 with. 
So what to do with all these cookies. I've been hitting the gym extra hard lately so eating all of these myself was out of the question. My friend Josh had impeccable timing last night when these were fresh out of the oven. I offered him the leftover beer from my holiday party that was annoying me and taking up too much room in my fridge for his upcoming party, and he got to take half the batch of these home with him. Lucky guy. And then this morning I took the other half of the batch to the post office and sent them down to one of my favorite friends in Connecticut. So that will be a nice Wednesday surprise when that person checks their mailbox. She'll probably bike off all the calories before the mail even arrives.
Alright so let's see. Christmas was last week. Hooray. It was a nice low key relaxing week at home in Connecticut. We have a tradition of going to my Aunt Marybeth's house every year for Christmas Eve which is always fun. One year we had a really aggressive game of Catch Phrase, like physically aggressive chucking of the catch phrase thingermagigger … especially when I got the word Pagoda. Who the heck knows what pagoda means? Don't answer that. This year we played Cards Against Humanity, which you might be thinking is way too inappropriate for family gatherings and should be saved for 2am drunken festivities with your biddies and bros. But honestly, it went really well with my family. Lots of inappropriate laughter, which if Santa wasn't already in the air delivering presents, may have landed some of us on the naughty list.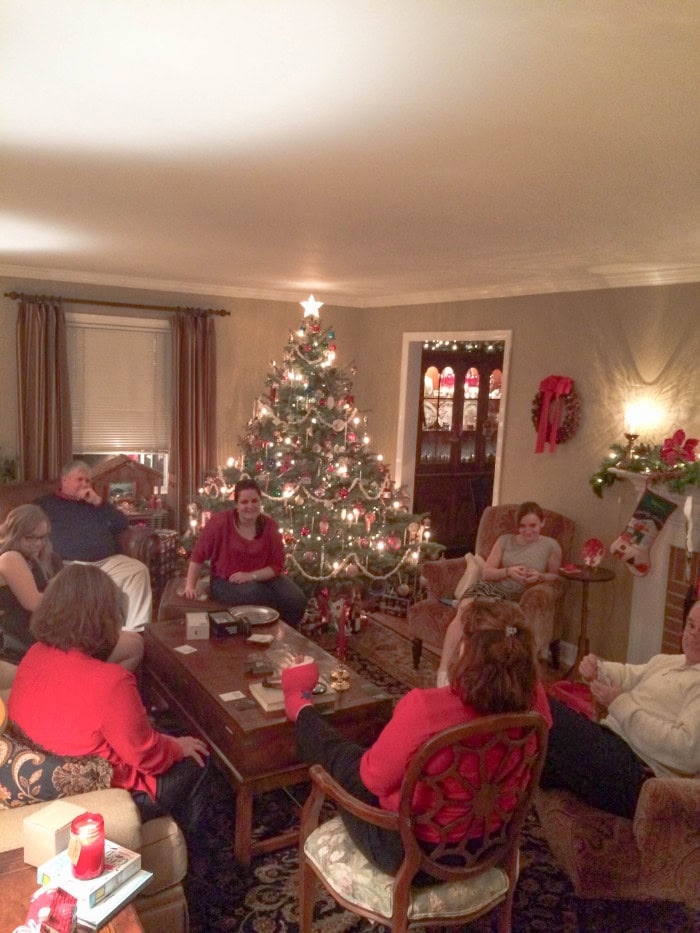 Christmas morning was just great, because Santa knows that I needed new sneakers and a nice Jcrew jacket. Thanks Santa. And then I fulfilled my important holiday duty of picking up and delivering the guest of honor – Grandpa. The big guy was really happy because I made a lot of Christmas cookies for him – especially these Pizzelles, which were one of the best cookies my Grandma used to make around the holidays. 
Grandpa and his favorite chauffeur.

Too much turkey for this little guy. Harry and Frankie are living the fluffy dog dream.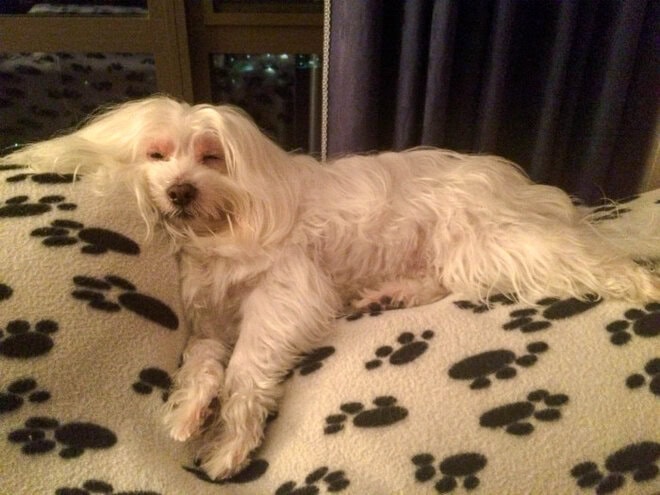 And now I'm back in Boston. Enjoying two weeks with no airplane travel and even cooking my own food and having time to workout every day. Life is good. Oh and want to know how exciting my weekend was? I bought a new dishwasher. Yayyyy adulthood. I did some browsing in Sears on Friday after lunch with my parents in CT, and then after verifying some online prices (because I refuse to pay full price for anything) I went to the South Shore Plaza on Saturday afternoon and ordered my brand spankin' new dishwasher. Which should be much better than the old dishwasher which sounds like an airplane is taking off. Also, a word to the wise. If you estimate the price of a dishwasher, add on about $450 of taxes, fees, delivery and installation, haul away of the old one, electrician and plumbing permits that are all required. Jeesh. But to celebrate this life milestone of purchasing a dishwasher on my own, I ventured down to Scituate to have a nice grown-up dinner with my friend Sarah. And by grown-up, I mean we attacked this brownie sundae like it was our last meal. #noregrets #dietstartstomorrow
So that's it. Tomorrow morning I am getting back at it with my trainer at the gym early in the morning. Then the HVAC guy comes to service the heater, and the gutter guy is coming to give an estimate on cleaning the gutters. Man, ADULTHOOD is like a never-ending Christmas! There's always another gift just around the corner.
I also had a lot of time to think tonight in hot yoga (when trying to focus on not falling over or passing out) about New Year's Resolutions. And in the last 10 minutes of yoga (where you lay down and don't move … my favorite part) I thought of this excellent resolution blog post that I should write. So look forward to that if I decide to actually write it in between fun homeowner responsibilities.
Happy New Year!