Brown Butter Cinnamon Rolls
Sunday morning, brown butter and cinnamon buns. Now that is a combo I could get onboard with every weekend. Not to mention this weekend was filled with sunshine + good friends + good food. Another winning combo to kickoff summer. That's right S-U-M-M-E-R. The season we never thought would grace us with its presence. The season furthest away from the dreaded four letter fluffy white cold word that I will not dare even type. Thank you summer. Everyone in Boston is happy you are here … please stay as long as you would like. Can I suggest forever??
I think we've covered in past posts my love for cinnamon buns as a kid. My mom used to pick me up from school (sometimes in the middle of the day for a "doctor's appointment") and we would go to the Trumbull Mall and split a cinnabon with extra frosting and a large diet coke (to balance out the calories, of course).
So when I saw this recipe pop up in my instagram the other day on one of my favorite food blogger's sites – Gimme Some Oven, I obviously had to immediately look up the recipe. She says these take under an hour, which is what caught my eye because I always thought cinnamon buns were a multi-day process, and we all know patience is not a virtue I possess. These do take under an hour … if you make sure you have all your ingredients in advance and don't have to run to the store midway through for cinnamon. I had a good group of taste testers today down the Cape for a girl's weekend so I figured I would give them a shot.
These came out ah-mahze-ing. Totally worth trying to be a little patient. I didn't adapt the recipe from Gimme Some Oven at all this time since it was my first time making them, and the brown butter is unreal … but I will definitely be making these again this summer, probably with some nuts, or coconut, or peanut butter. The possibilities are endless. But my ULTIMATE goal, is to make these gluten-free one day. So that I can relive the glory days with my mom of enjoying a nice hot, fresh-baked cinnabon together.
Dough Ingredients:
1 cup milk
1/4 cup brown butter
3 cups all-purpose flour, divided
1/4 cup granulated sugar
1/2 tsp. salt
1 envelope instant or rapid rise yeast (approx. 2 1/4 tsp)
1 egg
Cinnamon-Sugar Filling:
1/3 cup granulated sugar
1/3 cup packed brown sugar
2 Tbsp. ground cinnamon
1/3 cup (melted) brown butter
Frosting Ingredients:
2 tablespoons brown butter
4 ounces cream cheese, softened
1/2 cups powdered sugar
1-2 Tbsp. milk (if needed)
Step 1: To brown the butter, place the butter in a medium saucepan over medium-high heat until it boils. Continue whisking the entire time. The butter will bubble and then it will foam, continue to whisk, and after it foams you will see it turn an amber color. Transfer to a separate bowl to cool.
Step 2: Pour the milk in a microwave-safe bowl and heat on high for 30 seconds in the microwave. Remove and stir in the melted brown butter. Get a temperature read on the mixture with your finger, you want it to be lukewarm but not hot. If it's cool, microwave in intervals of 20 seconds until it is lukewarm.
In a separate bowl, sift together 3 cups of flour, sugar, and salt.
Step 3: In a mixer using the dough hook, add the lukewarm milk mixture and yeast and stir with a spatula to combine. Add in the flour mixture and egg, and mix on a low speed until combined. If the dough is sticking to the sides of the bowl, you can add in a little extra flour up to a half cup until it pulls away from the side. Beat on medium-low for 5 minutes. Remove the bowl and cover the bowl with a damp towel and set aside for 10 minutes. (If you don't have a dough hook on your mixer, you can mix this by hand in a large bowl.)
Step 4: In a separate bowl, whisk together granulated + brown sugars and cinnamon in a bowl until combined. Set aside.
Step 5: When the dough is ready, roll it out on a floured surface to be about 14×10 inches in size. Use a pastry brush to spread the melted brown butter evenly over the entire surface of the dough. Then sprinkle the cinnamon sugar mixture evenly on top of the melted butter.
Step 6: Tightly roll up the dough, starting at the 14-inch edge. Give the final seams a pinch so that it seals. Using dental floss (not the minty kind) cut the two ends off the roll and discard those two pieces. Use the floss to cut 12 even pieces of rolls. If you don't have floss, you can use a sharp knife as well.
Step 6: Place the rolls into a greased 13×9 baking dish and cover again with a damp towel, and set aside in a warm place to rise for 20 minutes. Preheat the oven to 350 degrees.
Step 7: While the dough is rising, you can make the cream cheese icing. In a mixer, combine the melted brown butter and cream cheese and beat on high. Add in powdered sugar and beat until combined. If it is too thick, you can add a tablespoon or two of milk to thin it out.
Step 8: When the rolls have risen, uncover the dish and bake at 350 degrees for 15 to 20 minutes. Remove and let them cool on a wire rack for a few minutes and then drizzle the frosting on top. We had a hard time letting these cool before icing them and digging in, so I totally understand if you can't wait either.
I mean honestly. The smell, the taste, the look, the texture – everything about these is absolutely amazing.
So I was trying to multi-task while writing this and watching Orange is the New Black at the same time … which means now it's late so I need to do a quick weekend wrap up … even though I have lots of fun things to talk about. So expect more pictures than commentary.
So last week was the big day at work we've been working towards for the past 9 months – Go Live. Which meant staying up until 3am on Wednesday morning to officially launch the website to customers and do a bunch of testing. The launch went well, and I am finally starting to play catch up on several months of missing sleep.
So Wednesday night all I wanted was to sit on my new patio with a bottle of wine, and a good friend and not look at my laptop. So my friend Sarah and I decided to do some experimenting on the grill  and made these delicious grilled s'mores bananas. Recipe to come one day, because I am sure I'll be making them again.
We did a girl's weekend down the Cape this weekend. Most of my friends who hadn't met eachother before all came down, and we just spent a lot of time in the sun and drank a lot of wine. It's always fun to bring friends together for weekends like this.
We started the weekend off running a 5k in Harwichport (proactively burning off those cinnamon buns!). Matching tank tops help in any race to make you appear to be running faster since people are distracted by the neon and wittiness. This is a quote from Pitch Perfect (hilarious, one of my favorite movies). Most people who saw our shirt just thought we were a little crazy, but we cracked ourselves up.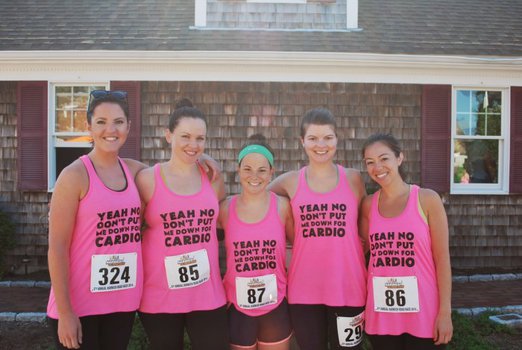 Having my mom as my personal race photographer is always nice. Even better when she's able to get a picture where it actually looks like I am both 1) breathing and 2) running. Nice work mom.
So what else did we do girl's weekend? A whole lot of this:
Because who needs the beach when you can walk 5 feet out the back door and be lakeside.
Colleen's recipe for white peach sangria … best enjoyed on a boat, on a boat.

Skip always says he has a connection with the big man upstairs to arrange stellar sunsets. This one was one of his best. And a perfect backdrop to sing the Lion King's Circle of Life, while holding up Harry + Frankie like Simba.
And today was basically just a repeat of yesterday.
Meanwhile, the furry ones did a whole lot of this: 
Ruff life for Miss Frankie.
Harry trying to use those puppy dog eyes to get himself a treat. It worked … several times.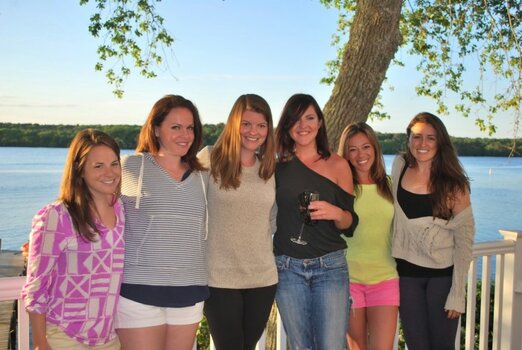 And that's a wrap … hello Summer, thanks for joining us. We thought you'd never come. Please never leave.