Double Chocolate Espresso Oreo Cookies
Yay, Superbowl time. Go sports. Do the thing, win the points. Touchdown touchdown woo. Or maybe some really delicious espresso Oreo cookies and some afternoon snuggs on the couch. First of all, let's give a big shoutout to Mother Nature for gracing us with some sweet 50 degree weather and sunshine today. Everyone in the city was friendly today. I got my first outdoor run of the year around Castle Island, which was about 500 times more productive than when I run on the treadmill and usually decide after about 7 minutes I've had enough. I baked cookies early enough in the day that I am not writing this post at midnight. Winning all around. And while I know that Mother Nature has a triple-pack-snow-punch ready for us this week, I will try for once to just live in the moment and enjoy the fresh air of having the windows open today.
I'll get right to the cookies since I have more fun life stories for the end of the post to make up for my lame post last week. So a few weeks ago Colleen and I went to Stephi's in Southie for our 1-year-anniversary dinner. Translation: Congratulations Colleen for surviving a full year of living with me and for some reason continuing to pay me rent. Anyways, to celebrate we indulged in some dessert from Stephi's – an espresso cheesecake with an Oreo crust. Holy bomb dot com. I wish I had a picture of it but we seriously annihilated that cheesecake like we were in a food eating contest and our lives depended on winning. Something that good needed to be packed into a cookie. So henceforth, I give you these beauties: double chocolate espresso Oreo cookies. There are probably more Oreos in these than I needed but since Oreos are my kryptonite and I need to be in a little black dress in Vegas next week, I needed those devil Oreos out of the house.
Ingredients:
2 1/4 sticks butter, softened
1 cup granulated sugar
1 cup light brown sugar
2 eggs
1 teaspoon vanilla extract
2 1/2 cups flour
3/4 cups unsweetened cocoa powder
1 teaspoon baking soda
1 teaspoon salt
3 tablespoons instant espresso powder
3/4 cup semisweet chocolate chips
24-30 Oreos, chopped (basically whatever is left from what you've already eaten from the bag)
Step 1: Preheat the oven to 350 degrees. Cream butter and sugars. Add in eggs and vanilla extract and mix until incorporated.
Step 2: In a separate bowl, sift together flour, cocoa powder, baking soda, salt and espresso powder. Add to the wet batter and beat on slow until well mixed. I know sifting is like flossing. You know you should do it, and half the time I lie to you and tell you I do it but I don't. But in this case, you really should sift to make sure you get rid of any cocoa powder lumps.
Step 3: Step 3: Add in the chocolate chips and mix until evenly incorporated.
Step 4: Roughly chop the Oreos and add into the batter. Mix on the lowest speed just until they are evenly distributed. I started with 24, but then I ended up putting in a total of 30, minus 2 that I ate. So I guess that's really 28.
Step 5: On a parchment or sil-pat-lined baking sheet, use a medium cookie scoop to place even-size balls of dough. Press down lightly with your fingertips. Bake for 10-12 minutes and then cool on a wire rack.
When these are a little gooey undercooked, holy bananas are they delicious. I love the mocha flavor with the melty chocolate chips and crunchiness of the Oreo chunks. These are definitely meant to be enjoyed with a giant glass of milk if you're into the whole milk + cookies combo. I'm more of a milk + diet coke kind of girl, since they basically negate each other.
Okay, so LOTS of things happening in the world of Boston this week. FIRST, an absolute apocolyptic travesty happened last Monday. So there I am just working away in my scenic windowless beige cube down at my client in Woonsocket, Rhode Island when I get this email from the Sapient Boston office "Now introducing, the new Cookie Monday! Every Monday at 3pm there will be free cookies available in the cafe." Stunned. I sat there just stunned, and then the emails and IMs started coming in. Concerned coworkers. Appalled that someone else would try to get up on my cookie turf. Cookies and Mondays have been my thing for over 2 years now. I was happy to see the loyalty of my cookie list coworkers who did not indulge in the store bought (not even brand name) cookies that afternoon, and who all voiced their loyalty and utter disgust over email. That's real love there. Let's just say my cake batter cookies were demolished by 11am on Tuesday morning. So suck on that imposter cookie Monday. One of my coworkers sent me this snapchat of the cookie selection.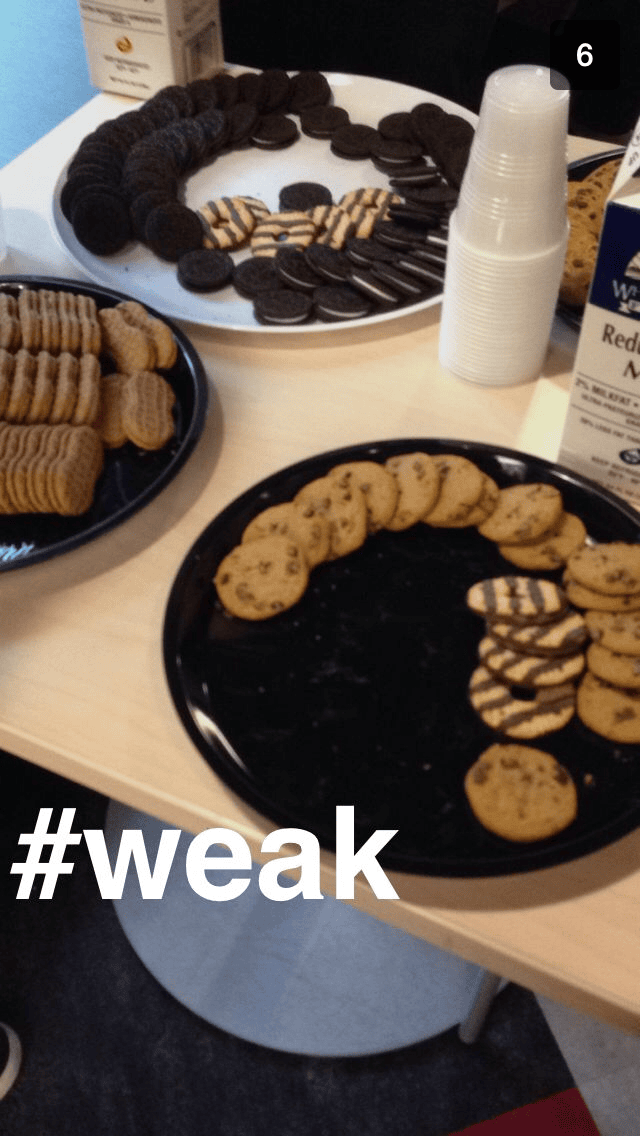 Tuesday I had planned a little work get together for some of the girls in the office. So we did one of these Paint Nite events at the bar next to work where you drink wine and they try to teach you how to paint a picture. Even with only indulging in Diet Coke, my painting still looked sad and lonely. Granted, we were painting something called "lonely tree in the woods" or as I like to call it, "A self portrait of being almost 29 and still single." Either way, we still had fun. And since the lighting in Clerys is more meant for late night bumpin n grinding than painting, I'm pretty sure when we all got home and saw our pictures in the light of day, they are probably all going in the trash later this week.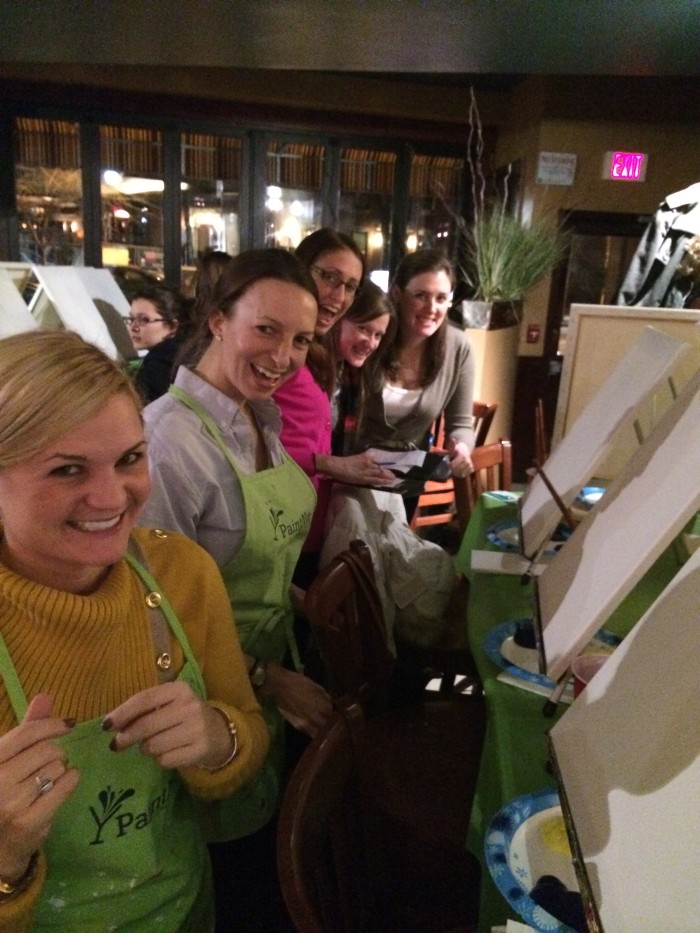 Allie, Alex, Megan, Robin and Jess so excited for Paint Nite.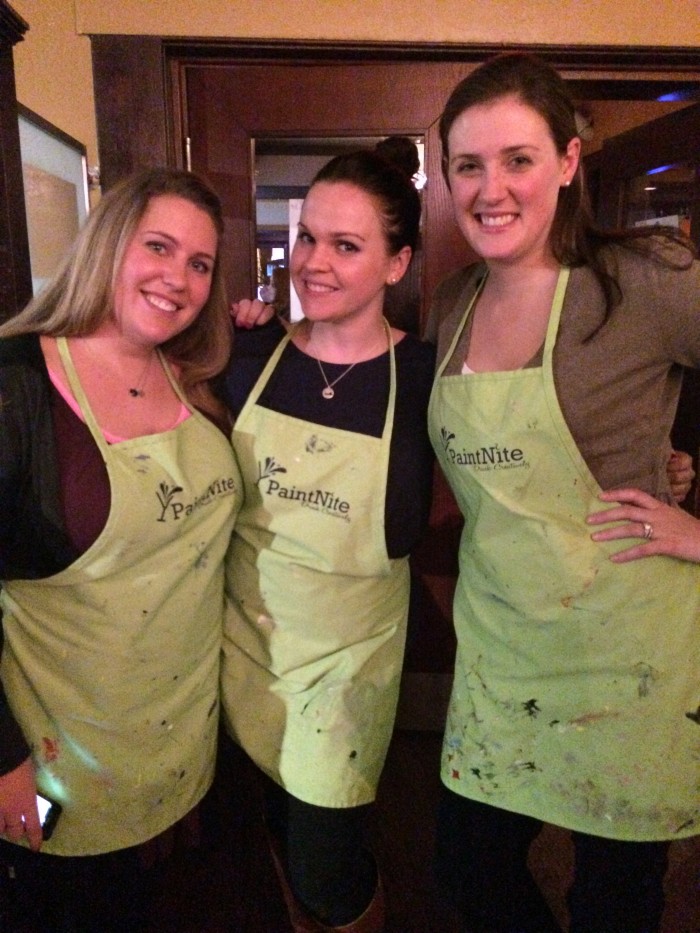 Chessie, Me and Jess. Business Consultants by day, Picassos by night.
Friday morning was a big moment in my adult life. I finally bought a grown up bed. Now, I have not been living in a twin bed or anything like that. But I have had my eye on this legit bed from Pottery Barn for quite some time now and finally pulled the trigger and it was delivered on Friday morning. 6 full drawers, which basically doubles my storage capacity in my room. And the headboard makes me feel like I am either in a nice hotel or some fancy coastal cottage. Either way, it got 53 likes on Facebook, which basically means the social consensus confirms I made a solid life decision with this bed. Ensuring a comfortable bed is essential, and if you're seeking more bed options, you can always find more details here.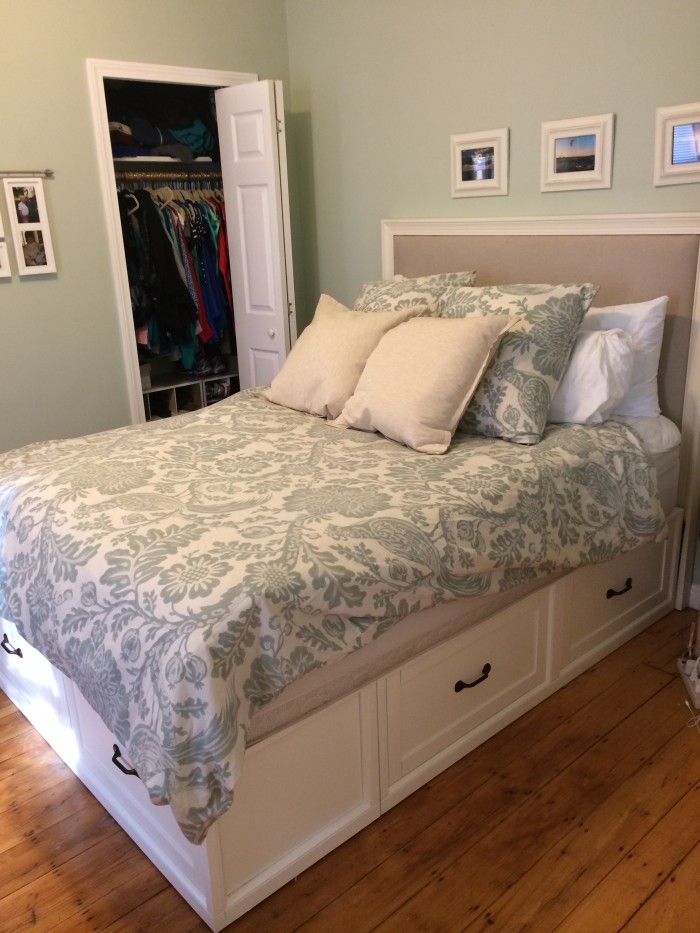 Saturday, was a big day. My tennis partner and I have been harboring some resentment against this doubles team from north of the city who we lost to in October. Now, in October it was a devastating blow since we were on an undefeated roll, and these two ladies crushed our streak with our first loss. So we have been practicing since then for this match. When we got to the racquet club, our opponents complimented us on our major defeat of the Russians from Wellesley the previous week who were undefeated until they went up against the Young Gunz from Southie. Oh that match? We totally forgot about it already. (Lies, we basically spent the week telling everyone we knew we took down the #1 team in the league). So after a nail biter match with a first set tie breaker, the Young Gunz took back bragging rights for the win.
So that's it for the week. I think groundhogs are stupid and I'm going to continue to complain like a New Englander every time there is snow in the forecast. But for tonight, you all enjoy your chicken wings and football betting, while I continue a Lost marathon with Jack and Sawyer.