Chocolate Peppermint Sprinkle Cookies
It's the most wonderful time of the year. You can eat cookies literally any time of day judgement free. Breakfast cookie? Hell yeah. Shower cookie? Sure. Post workout Christmas cookie? Why not? Everywhere you look, there are cookies and I couldn't be happier. This is my time to shine. A few years ago I started a cookie swap with a bunch of friends after I missed the entry deadline for a big food blogger cookie swap. Well that was the best thing I could have missed, because as a result we have grown from about 10 cookie swap participants to over 27 this year. This was the final week for everyone to submit their recipes so my inbox has been flooded with delicious drool-worthy cookies. These Chocolate Peppermint Sprinkle Cookies were one of two recipes I baked for my cookie swap match and I've already made them twice more since.
The coordination behind #TheSaltedCookieHolidaySwap (yes, we have an official hashtag) takes a little time, but I've got it down to a foolproof Excel system to match each baker with another participant to send to and then a different participant to receive from. At the end of the swap, I compile all of the recipes into a PDF so we all come away from it with a whole bunch of wonderful recipes to add to our collection. When thinking of a good recipe for the swap, I always look for that balance of fashion and function. You want the cookie to look good when you package it up or add it to a cookie tray. And you want it to hold up when the post office punts the package on someone's front porch. Oh, and taste good too, of course.
I revised my regular Chocolate Sprinkle Cookie recipe from last summer and added in some peppermint extract, and loaded up with holiday non-pareils I picked up at Target. If you're ever looking for great seasonal sprinkles, Target never disappoints. Just make sure you go in knowing that those sprinkles will cost you over $100 in other random stuff you pick up. Like these cute little tins that I bought to ship my cookie swap to my friend Jen in.
I brought the leftovers from my holiday party to work and these cookies lasted several days and still tasted great. I'm actually more concerned that they lasted several days at work, since I'm used to my cookies being highly sought after and disappear after a few hours. If my new coworkers can't be bought with cookies, I'm not sure what I'm going to do. Luckily, my friends are always there to be my reliable taste testers. Two ideas I had for this cookie if I wasn't going to bring it somewhere. First, peppermint ice cream sandwiches. Can you imagine two of these cookies with a fresh scoop of peppermint ice cream in between? I'm literally drooling at the thought. Second idea, peppermint frosting sandwiched between two. Almost like a whoopie pie but with cookies.
The other great thing about this recipe is you can easily make the dough the night or two before baking it since it needs to be chilled anyway, and then roll out the balls of dough as the oven preheats. And during a time of year when things are so busy, anything that takes a little stress out of your week is always recommended. Plus, you get cookies at the end of it. So if you're looking for a new cookie recipe to add to your trays this holiday season, try these Peppermint Chocolate Sprinkle Cookies and enjoy!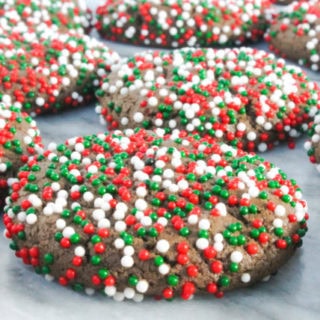 Yield: 36 Cookies
Chocolate Peppermint Sprinkle Cookies
Additional Time
30 minutes
A bright and cherry refreshing chocolate cookie to brighten up your holiday cookie trays.
Ingredients
1 cup butter, softened
1 ½ cups light brown sugar
2 eggs
1 teaspoon peppermint extract
¾ cup cocoa powder
2 cups all-purpose flour
1 teaspoon baking soda
½ teaspoon salt
½ cup mini chocolate chips
½ cup non-pareils
Instructions
In a mixer or using a hand mixer in a large bowl, cream the butter and brown sugar on medium speed. Add in the eggs and peppermint extract and beat together. Scrape down the side of the bowl before adding the dry ingredients.
Sift together the cocoa powder, flour, baking soda, baking powder and salt and add to the dry ingredients on a low speed. Mix just until the dry ingredients are incorporated.
Add in the mini chocolate chips and mix until evenly distributed. Chill the dough for at least 30 minutes to make it easier to handle.
Preheat the oven to 350 degrees F. Once the dough is chilled, use a small cookie scoop to roll out even-size balls of dough. Roll them in the sprinkles until evenly coated and place on a sil-pat or parchment-lined baking sheet at least 2 inches apart.
Bake at 350 degrees F for 9-11 minutes. Let them cool on the baking sheet to finish setting before transferring to a wire rack to finish cooling. These are the perfect cookies to sandwich a nice scoop of vanilla ice cream between or even some peppermint frosting. Enjoy!