Snickerdoodle Cookies
It's the most wonderful time of the year … time for sweatpants and cookies and cheer. So, so many cookies. I like to think that Thanksgiving is the unofficial start of a full month where it's deemed completely socially acceptable to eat cookies before 10am. I've got a whole slew of holiday cookie recipes ready for you, so get your stretch pants and a big glass of milk ready. And we'll get things started with a classic recipe: Snickerdoodles. This recipe takes less than 20 minutes to make start to finish, and these chewy cinnamon-sugar cookies will be a hit with any crowd.
I first made Snickerdoodles four years ago when The Salted Cookie was in it's infancy and I thought taking photos in my dark kitchen on an iPhone 4 was legit. Since then I've dabbled in all kinds of doodles:
The doodle possibilities are truly endless. But I decided to re-make my original recipe with a few improvements based on the countless cookies I've based over the past few years. And … if we're being honest here. I baked these because I'm in Snickerdoodle withdrawal. That's right. I'm a Snick addict. And I needed my Snick fix.
In South Boston there are a few coffee shops that have endless flavors of coffee beans that you can't even imagine how good they taste: Girl Scout Thin Mint, White Christmas, Pumpkin, White Mocha, S'mores, Banana Hazlenut, Toasted Coconut, Snickerdoodle and more. In my last few years living in Boston, I became addicted to the Snickerdoodle iced coffee from The Java House and Sidewalk Cafe in Southie. To properly order it like a true Bostonian … "a lahge iced snick reg." When I was packing up to move to North Carolina at the end of September, I stocked up on some Snickerdoodle coffee beans so I could brew it at home in Raleigh. Baking up this batch of hot fresh Snickerdoodle cookies brought me back to Saturday mornings in Southie.
These cookies just taste like Christmas. I like to use Vietnamese cinnamon from King Arthur Flour in this recipe because it has such a strong flavor and makes your house smell like angels. Rolling these cookies in cinnamon sugar before baking them results in a nice crunchy outside, with a very smooth chewy cookie inside. The more cracks in your cookie the better for this recipe. And not just because Snickerdoodle is my crack. My kryptonite. If anyone in Boston is reading, send more coffee beans!
While they might not be the most photogenic cookies, they are the perfect addition to holiday cookie trays, where you always need a few good "base" cookies to round out the trays. Snickerdoodle, Gingersnaps and Chocolate Chip Cookies are classic go-to cookies for my holiday trays, that are sturdy enough to be the bottom of the cookie pyramid, without crumbling or losing their flavor. They are also delicious when they are a few days old and get a little crunchy too.
I've also heard that Snickerdoodles are one of Santa's favorite cookies … so if you're at risk for some coal in the stocking this year, I recommend leaving out a plate of these on Christmas Eve. Though … according to VHS footage from the late 80's Santa in Connecticut used to like Diet Coke and chocolate chip cookies. So whether you're hosting a holiday meal, involved in a cookie swap, a Snick addict like me, or just don't want to be that jabroni who shows up to the holiday party empty handed this year … whip up a batch of these super easy and delicious Snickerdoodle cookies.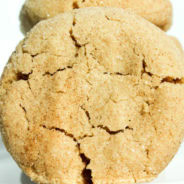 Snickerdoodle Cookies
Yield: 24 Cookies
Prep Time: 10 Minutes
Cook Time: 10 Minutes
Total Time: 20 Minutes
A super easy crowd-pleasing treat to add to your holiday cookie trays this year!
Ingredients:
Cookie Dough
1 cup butter, softened
¾ cup granulated sugar
½ cup light brown sugar
1 egg + 1 egg yolk
1 tablespoon vanilla extract
1 teaspoon baking soda
1 teaspoon cream of tartar
½ tsp salt
1 teaspoon cinnamon
2¾ cups all-purpose flour
For Rolling Cookies
¼ cup granulated sugar
1 tablespoon cinnamon
Directions:
Preheat oven to 325°F. In a large mixing bowl, beat the butter and sugars until light and fluffy. Slowly beat in the egg, egg yolk and vanilla extract until well mixed. Scrape down the side of the bowl before adding in the dry ingredients.
In a separate bowl, sift together the flour, baking soda, cream of tartar, salt and cinnamon. Slowly mix into the wet ingredients until incorporated. The dough should be a bit crumbly.
In a small separate bowl, make the cinnamon sugar coating by mixing together the granulated sugar and a tablespoon of cinnamon.
Use a medium cookie scoop to measure out about two tablespoons of dough and then roll evenly into a ball in your hands. Coat each cookie dough ball in the cinnamon sugar and then place at least two inches apart on a sil-pat or parchment-lined baking sheet. Press down lightly your fingertips to flatten before baking.
Bake at 325°F for about 10-12 minutes, until the edges are slightly golden. Let the cookies finish setting on the cookie sheet for a few minutes before transferring to a wire rack to cool. Enjoy!