Homemade Marshmallows
'Tis the season for marshmallows. You know that song from the Christmas Spectacular "It's a marshmallow world in the winter, when the snow comes to cover the ground, it's time for play, it's a whipped cream day, I wait for it the whole year round." Well they've got it all wrong. SUMMER is the season for marshmallows, and I am all about that fluffy sugar goodness right now. For the record, the only reason I know that song is in my younger days as a dancer I once had to dress up in a Rockette eskimo costume and throw a sytrofoam snowball in the air while high-kicking across the stage with my dance company KICKS. I won't provide a supporting visual because I think that was in my mid-teen years when I made the unfortunate discovery of tweezing my eyebrows. True store. Anyways, I digress.
If I could bottle up a scent and sell it as a cologne named Summer it would be toasted marshmallows over fire. And if I was riding the #9 bus downtown and a guy next to me was wearing that marshmallow cologne, I would be all over that. The best part of a toasted marshmallow is when it gets crunchy on the outside (and BURNED!) and then you eat that part and are left with soft ooey gooey sugar. Which then you stick in between a graham cracker with some Hershey's chocolate and you just want s'moreeeee!
After the S'mores night I had with my girlfriends a week ago, I decided that it was time to try to make some of my own marshmallows from scratch. My friend Havy from work was visiting this weekend and had made these before, so we decided to do some experimenting with sugar on Saturday. Anytime a recipe involves a candy thermometer I usually shy away from it because precision in baking isn't really my thing, but the rest of this recipe seemed simple enough and since I had a baking assistant I was more apt to try something new. These are super easy and very delicious. Havy recommended the Alton Brown recipe, which I'll try next time, but we used this Martha Stewart recipe to follow this time around. The final product was fluffy, puffy and delicious – definitely very sweet! And since we were baking in my parent's kitchen which is like heaven for a food blogger/photographer, I have included TONS of photos since the lighting was just right that afternoon.
Ingredients:
4 envelopes unflavored gelatin (3 tablespoons plus 1 1/2 teaspoons)
3 cups granulated sugar
1 1/4 cups light corn syrup
1/4 teaspoon salt
2 teaspoons pure vanilla extract
1 1/2 cups confectioners' sugar
Step 1: Line a 13×9 baking dish with parchment paper – allowing for a 2-inch overhang on all sides. Spray with nonstick spray and sift some confectioner's sugar lightly on top. Set aside.
Step 2: Put the granulated sugar, corn syrup, salt and 3/4 cup of water into a medium saucepan. Bring to a boil over high heat, stirring to dissolve the sugar. Cook without stirring, until the mixture register 238 degrees on a candy thermometer, about 9 minutes. 
Step 3: While the sugar is boiling, put 3/4 cup of cold water into your mixer bowl and sprinkle with the gelatin. Allow it to soften for 5 minutes. Attach the whisk attachment.
Step 4: Put the mixer on a low speed, and slowly beat the hot syrup into the gelatin mixture. Gradually raise the speed to high and beat until the mixture is very stiff. This takes about 12-15 minutes. Beat in the vanilla (stopping to add it in so it doesn't spray everywhere). 
Step 5: Slowly pour the fluff mixture into a prepared dish and smooth with a spatula. Set aside, uncovered to set, for about 3-4 hours.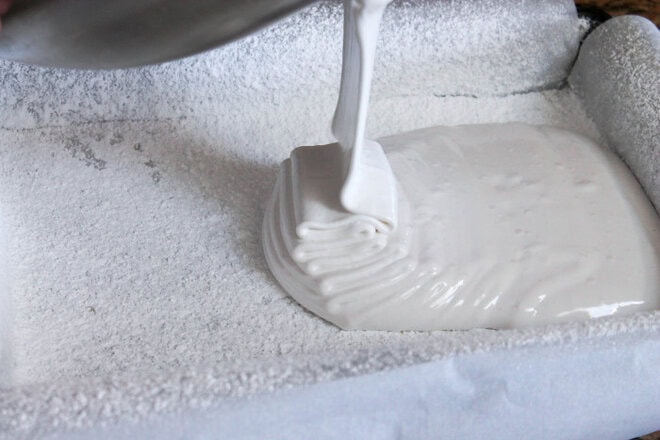 Step 6: Sift about a cup of confectioner's sugar onto your work surface (we used a cookie sheet covered in parchment). Unmold the marshmallows from the pan and place onto your sugared work surface.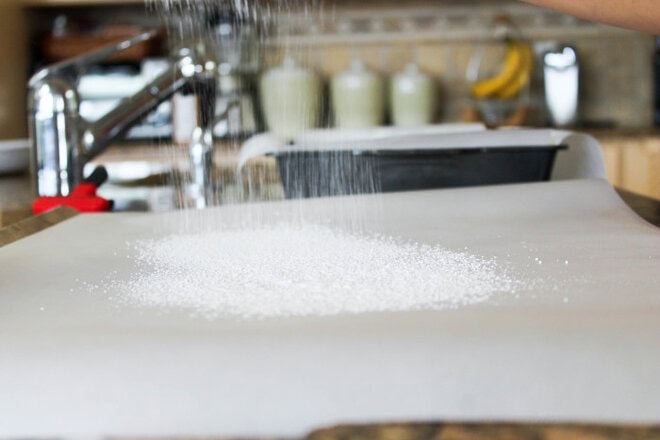 Step 7: Using a large sharp knife, cut the marshmallows into 2-inch squares. If the marshmallow is sticking too much to the knife, lightly spray it with nonstick spray. 
I put my baking assistant to work. Here she is coating the marshmallow strips in sugar before the final cut.
Step 8: Sift the remaining confectioner's sugar onto a plate and roll each marshmallow in the sugar to coat. We put the marshmallows in a sifter and shook lightly to shake off any excess sugar. Marshmallows can be stored in an airtight container for up to 3 days.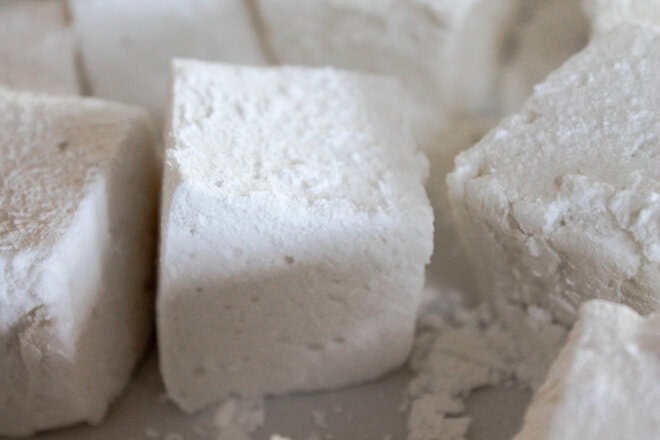 Watch out Jet Puff, these homemade Stay Puft marshmallows will take over your city! And terrorize the people of Manhattan until the Ghost Busters blow you to sticky pieces! I am the keymaster! Of the marshmallow recipe! Or maybe I ate too many of these and now am clearly hopped up on sugar, but MAN are these delicious. They are super fluffy and sugary sweet. Definitely a very different taste from the traditional store bought marshmallows.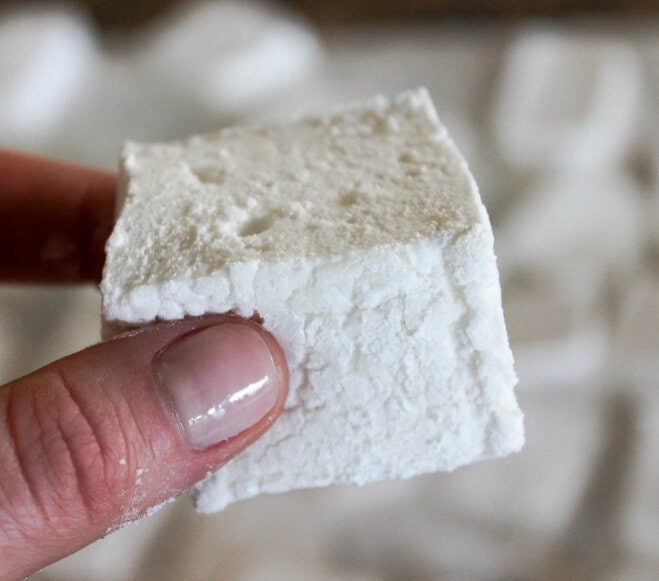 The best part of these marshmallows is their torch-ability. I tried toasting these over the gas stove which was tricky, because unlike traditional marshmallows chock full of preservatives, these fluffy treats start melting much faster. Take one …
Take two … success! The biggest difference is how CRUNCHY the outside is. It's like the topping of creme brulee. 
So of course we spent Saturday night taking a mini torch to the marshmallows, because who wouldn't do that? And what better use for a toasted marshmallow than fresh s'mores! Here's the money shot!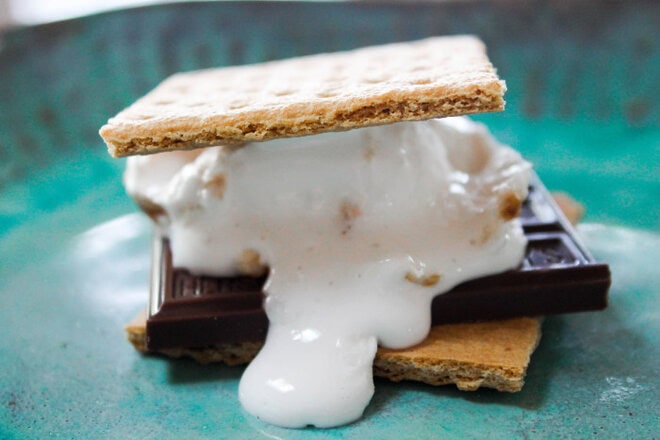 And about 5 seconds later…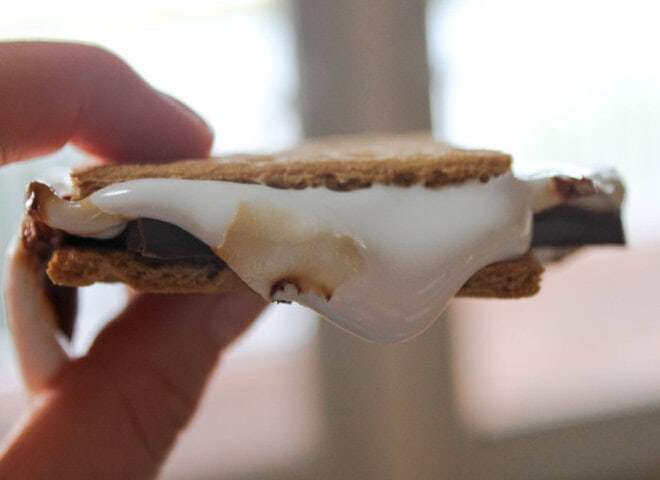 And about 5 seconds after that, this s'more was gone. The first marshmallow experiment was a huge success. I have so many ideas swirling in my head about different ways I can use these in recipes. Ninety-percent of those ideas involve me using a flame thrower on these bad boys. And because I shouldn't be trusted with open fire after a multitude of kitchen injures I suffered this weekend, I decided to use these marshmallows for some browned butter Rice Krispie treats that I made tonight and will be handing off to my friend Sara for taste testing. I'm so lucky to have friends with sweet tooths who are always willing to take my baked goods from me. My jeans thank you all. 
Okay, let's do a quick recap of the past week. I know I've already inundated you with photos from this post, but a few more won't hurt. I've been baking a LOT lately. I have so many things photographed for the blog, but I've been executing more of a LIFO methodology with my blog posting instead of FIFO. So going a little backwards, but will hopefully work through those soon. My latest experiment has been with homemade ice cream. I think I've finally perfected vanilla bean ice cream after a few tries. I made a batch last Sunday and put heaping scoops in between fresh brownies for ice cream sandwiches to bring to a dinner party with my tennis friends. Everyone gave them big thumbs up so I'll be posting that recipe soon. Below is a pic of the beautiful dinner Heather prepared last Sunday – fresh crabcakes with a great summer salad (and good wine and great friends!).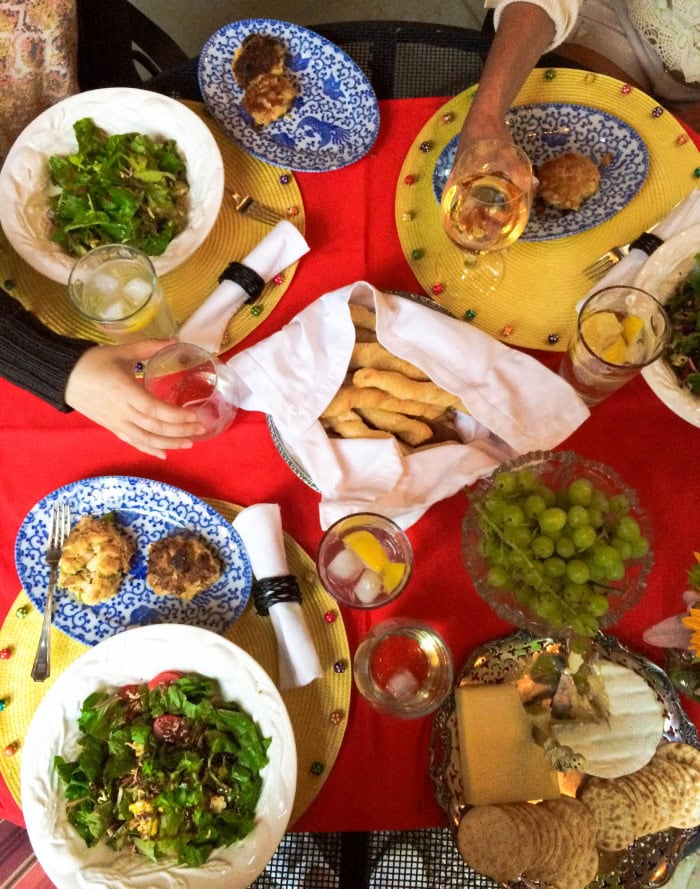 Next is my new weekly addiction to fresh flowers from Stapleton Floral in South Boston. Their fresh peonies and hydrangeas are perfect right now. And they give you a  20% off coupon on the bottom of each receipt towards your next purchase … sooo it would be financially reckless if I didn't go back every week! right???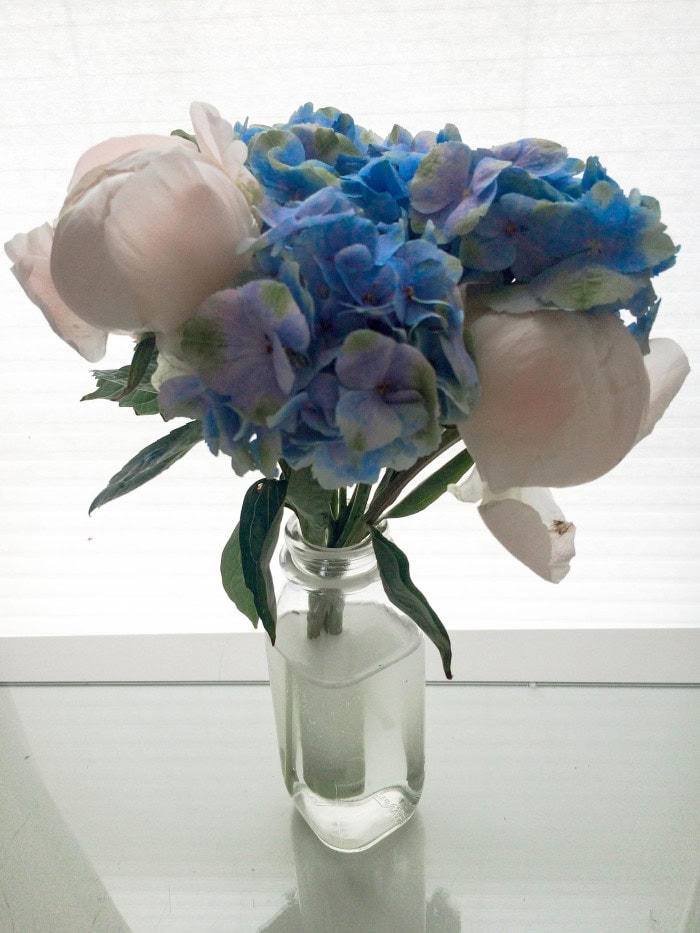 I don't remember what else I did during the actual week. Work, workouts, eat, sleep repeat .. I think? OH, I went to my first Boston Bloggers event on Wednesday at the General Assembly downtown, and it was GREAT! They had a panel of awesome speakers including Kate from DomestikatedLife and Alison from LongDistanceLoving who are the duo behind Boston Bloggers. It was a great night, super informative and I met some other fun Boston area bloggers. Hooray, new friends.
Thursday was a great book club night, the first one I could actually make in MONTHS since I'm finally off the road for a bit. None of us read the book, per usual, but we had great snacks and some wine. I photographed my crostini that I brought and will post that soon! I picked up Havy late night from the airport after she experienced the joys of a PHL > BOS fly-home-Thursday (aka she was delayed 3 hours for no real reason) and then we headed to the Cape! (or "the cod" as our Aussie friend Maya calls it). Friday afternoon, we went to Brax Landing, my old waitressing stomping ground for a nice waterfront lunch. I had to go for the lobstah roll, since I used to have such a sales pitch on this (most expensive sandwich on the menu $$$) that I convinced myself it actually IS one of the greatest lobster rolls. 
Then we strolled Main Street in Chatham, and I took her to the only real place you need to go: The Chatham Candy Manor.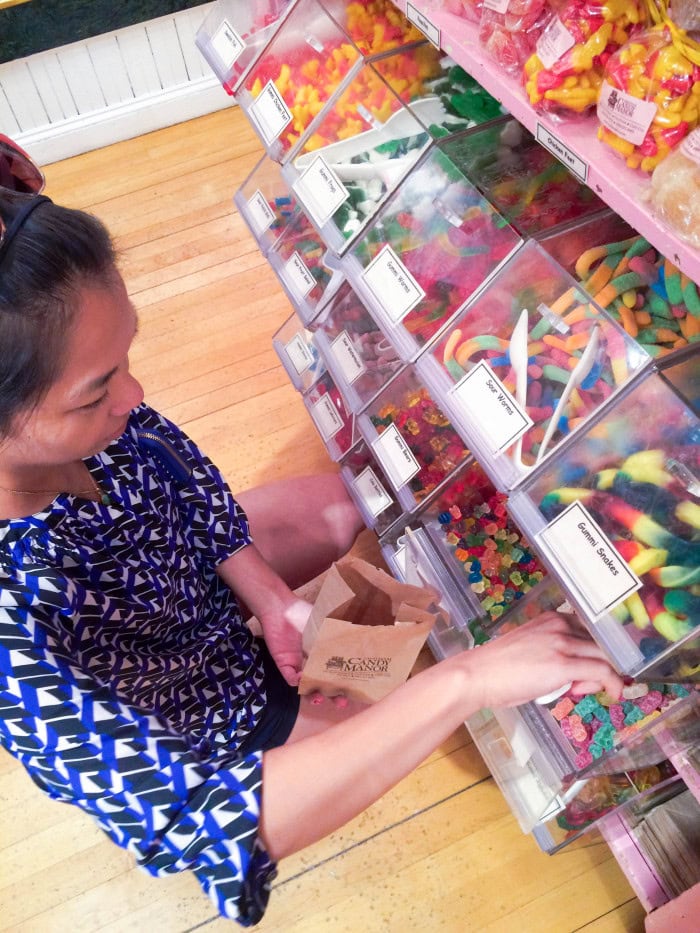 Then we did my favorite thing to do now on Friday nights. Grill up a big delicious homecooked meal and just hang out with the fam.  This is where I endured Kitchen Injury #1 of the weekend – when I tried to open the pepper jar with a steak knife and stabbed my hand. Not smart.
Then Saturday morning I made poached eggs over avocado toast for the breakfast crew (since I am now on a big poached egg kick). This is also where I endured Kitchen Injury #2, after we dropped a ceramic ramekin and then threw it in the trash, and then being the good person I am I went to take the trash bag out to the garage. What I did not realize is that the ceramic shards poked through the bag, and then I knocked the bag into my leg and gashed my leg open. I did realize it about 5 minutes later when my shorts were soaked with blood, and then mom had to go into nurse mode since I like to pass out at the sight of blood. But I managed to keep my leg! Thanks Mom! To celebrate not needing my leg amputated, Skip took us on a nice leisurely boat ride around the lake. So we took a selfie with the Skipper!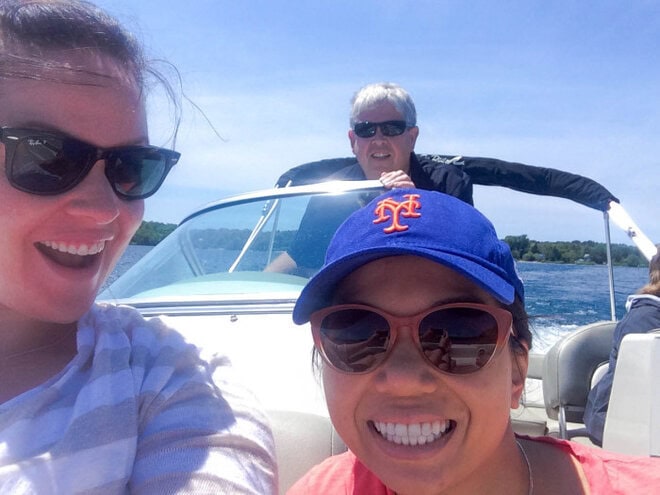 Sunday was raining like a mofo so we had a lazy day waiting out traffic – hit up yoga, then got some salads for lunch (to balance out the massive amounts of marshmallow consumed Saturday night) and then made this fresh pasta dish jam packed with veggies from Foodie's Sunday night during our trashy TV marathon.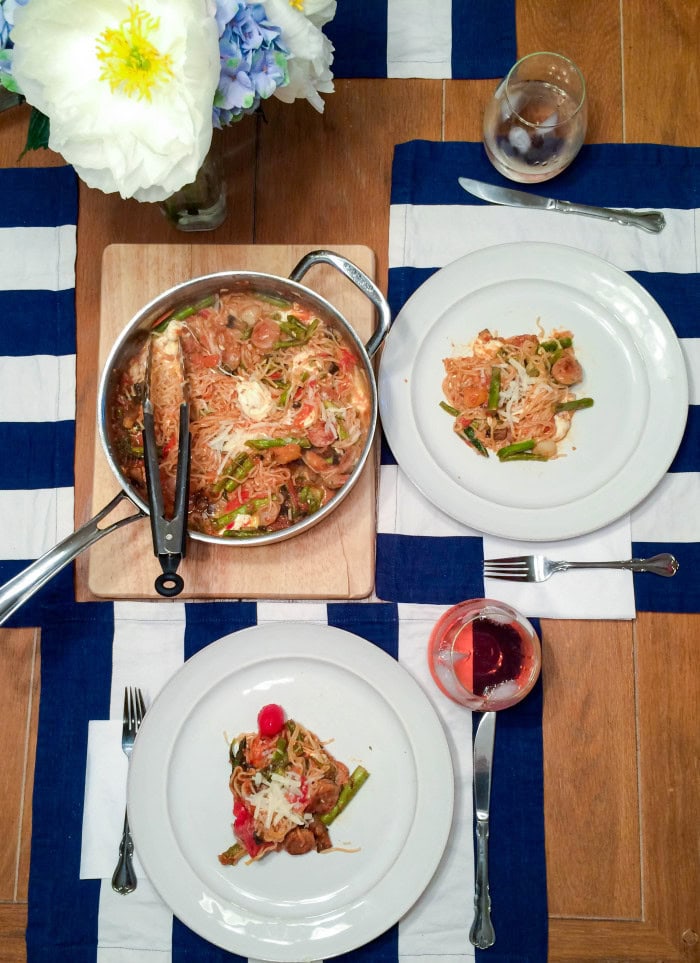 What a fun-filled jam packed-sugary weekend. And I would be remiss without giving a shoutout to my daddio for the recent Father's Day Holiday. The benefit of being home for the weekend was I had lots of albums to sift through to find a good throwback photo. I liked this one because it shows how supportive Skip has always been … like holding my ankles down while I punch Big Bird straight in the jaw.

I always say those week summaries are going to be short and just photos, but you know me … I love to tell a good story. Home again all week this week, yahoo! Lots of fun events going on this week. Make sure to stay up to date with @thesaltedcookie on Instagram, and now ON FACEBOOK! Yes, I finally made a Facebook page, so be sure to follow it so you can get your daily sugar fix in your feed. Because what better way to wake up than trolling Facebook for some cookies! My designer friend Katie made this gorgeous cover photo for me, so go check it out!