Cayenne Double Chocolate Chunk Cookies
If it was possible to high five Mother Nature, I'd throw a big one up top to her. It seems she finally got her meds right, and knows that spring is here which means sunshine and warmer weather. It's amazing what a heavy dose of vitamin d can do for your mental health.
During the last snowstorm we had in March, my friend Caitlin and I had just had it with the winter, so we booked a trip to Mexico, which we took last week. My regularly albino skin now has a healthy glow, and we spent 5 days in 90 degree weather on a beach in Cancun far far away from my work laptop. I did a whole lot of this for 5 days straight: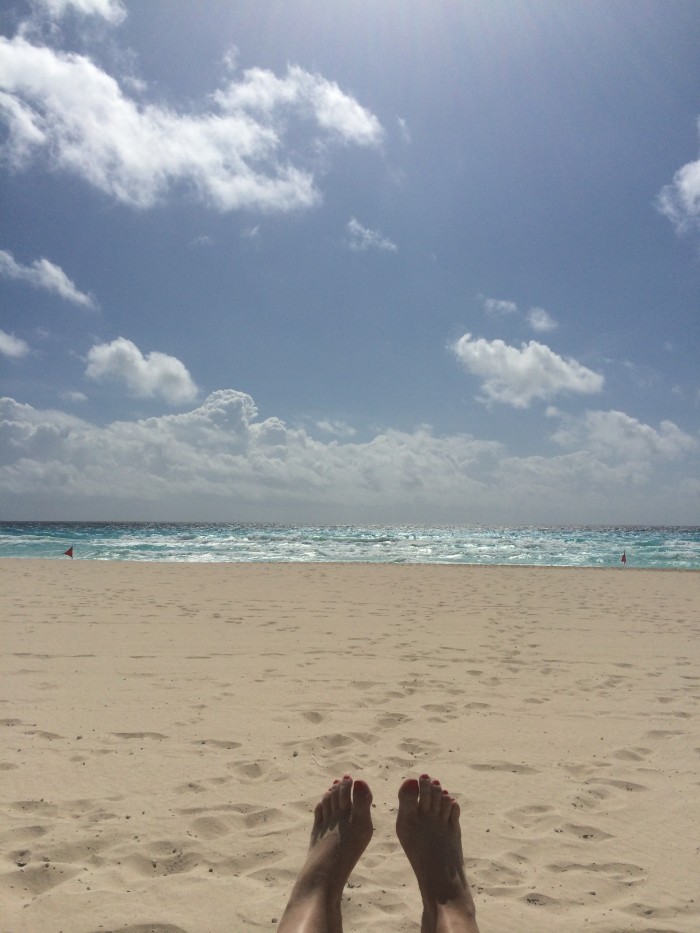 Obviously, in between the beach, pina colada drinking, and taco eating, I was looking for cookie inspiration. I would have bought some duty free chocolate in Mexico, except even after 5 days the peso conversion in my head process was challenging. So I found a Lindt Chili infused dark chocolate bar at CVS yesterday and decided to get that into a cookie. I took my double chocolate espresso cookie base and swapped in some cayenne pepper instead of espresso. The combo of spicy and sweet is something new for my cookie experimenting, but I think they turned out pretty good.
Ingredients:
2 1/4 sticks butter, softened
1 cup granulated sugar
1 cup light brown sugar
2 eggs
1 teaspoon vanilla extract
2 1/2 cups flour
3/4 cups unsweetened cocoa powder
1 teaspoon baking soda
1 teaspoon salt
1 teaspoon cayenne pepper
1 cup semi-sweet chocolate chips
1 bar Chili infused dark chocolate, coarsely chopped (optional)
Step 1: Preheat the oven to 350 degrees. Cream butter and sugars. Add in eggs and vanilla extract and mix until incorporated.
Step 2: In a separate bowl, sift together flour, cocoa powder, baking soda, salt and cayenne pepper. Add to the wet batter and beat on slow until well mixed.
Step 3: Add in chocolate chips, and coarsely chopped chili infused chocolate if you have it. If you don't have the extra chocolate bar, then you can just substitute a half cup of chocolate chips.
Step 4: On a parchment or sil-pat-lined baking sheet, use a medium cookie scoop to place even-size balls of dough. Press down lightly with your fingertips. Bake for 12-14 minutes and then cool on a wire rack.
Once I read an article about how cayenne pepper is good for your health. In addition to Vitamin A, it had cardiovascular benefits, clears congestion, prevents stomach ulcers, and boosts immunity. So you know all you coworkers who ask for healthy cookies? This is as close to a healthy cookie as you're ever going to get from me. Enjoy!
If you're afraid of spice, don't be scared of these. They are super rich chocolately when you bite into them, and then the little kick of heat comes as the aftertaste but it's not like you'll be running around with flames shooting out of your mouth.
Mexico was great. I've never been to Cancun before because it always had the bad rep of being a total crazy spring break party spot. And while that might be what I want on some vacations, like the recent Vegas trip, this time I was looking to park myself in a nice spot in the sun and do a whole lot of nothing. And that's exactly what we did as the Westin resort.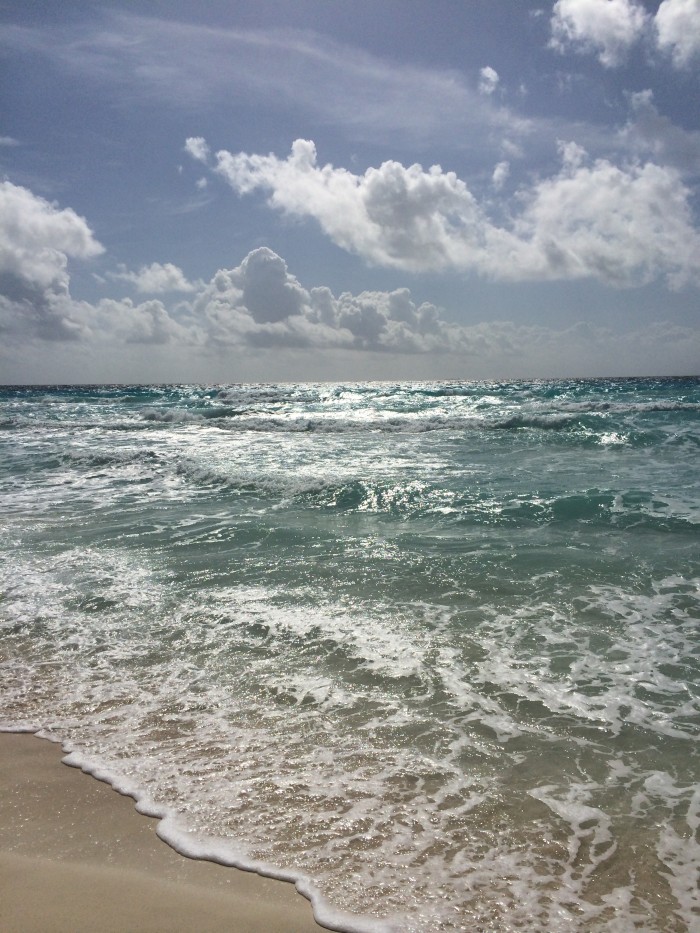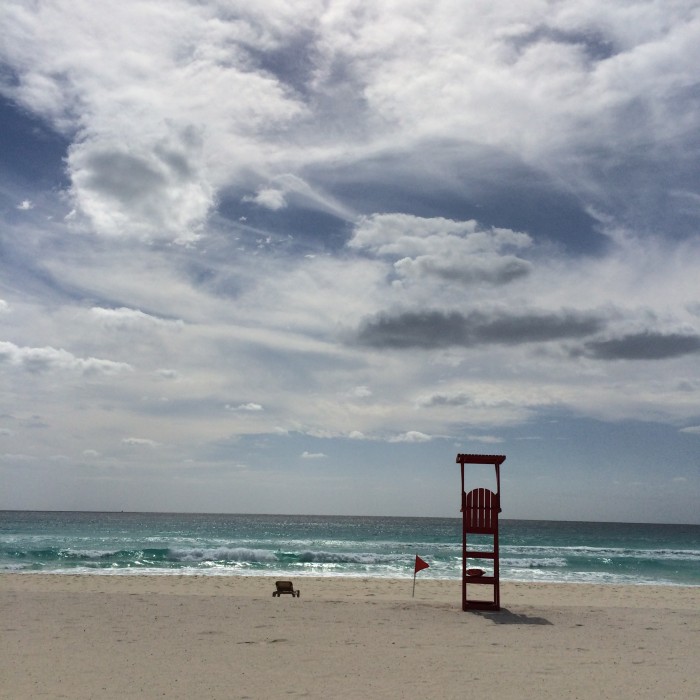 While the 5 day vacation from reality was super, going back to work was a harsh smack in the face and kick in the shins reality check right away. So I was very happy that I only had to survive 2 days before enjoying the weekend. One of my favorite memories at Boston College was when 5 of my girlfriends and I started a Thursday Night Dinner Club. It started when we were all swamped at school and looking for a little bit of a mid-week reprieve. So I had offered to host a dinner at my house on a Thursday night. We had so much fun, that for the next few years each of us would host a dinner at our houses and it became a super fun tradition. So, now as a grown up, some mid-week stress relief in the form of food + friends is still much needed, so a group of us Southie girls started the South Boston Dinner Club, and our inaugural dinner was at our house hosted by Colleen + Me this past Friday night. Oven baked pizzas and salad was the main course (with lots of vino of course).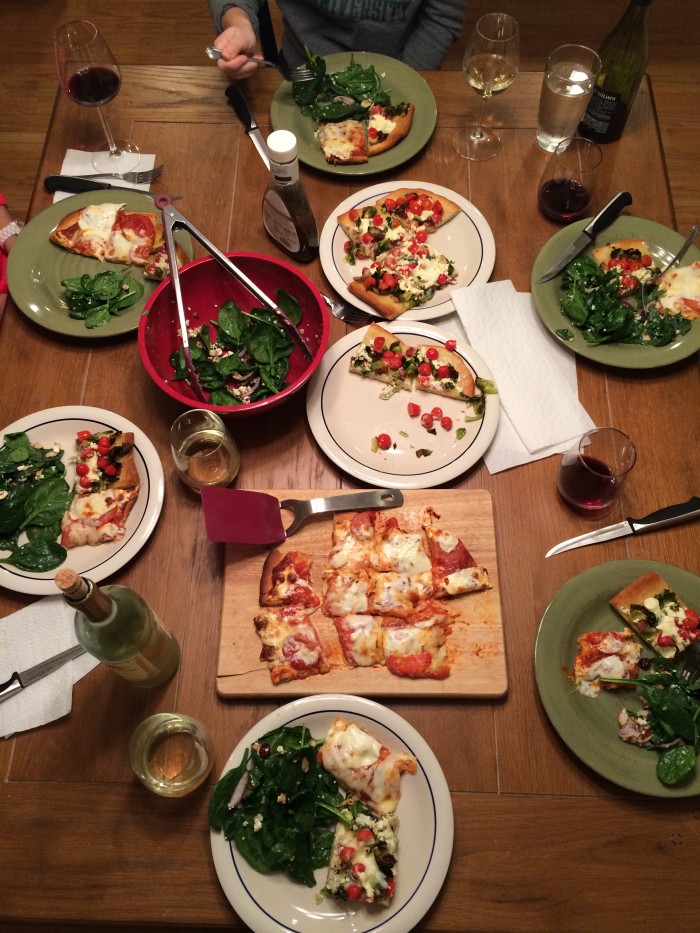 And for dessert – homemade browned buter salted chocolate chip cookies with salted caramel ice cream in between. 

And my favorite time of the year is officially here — Cape Cod weekend season has begun. I headed down to the Cape to spend some QT with the rents in Harwich yesterday, which involved a lot of sitting lakeside, and then grilling steaks while watching the sunset. Not too shabby at all. Let's hope I can channel this weekend relaxation straight through this crazy workweek.