Firework Pinwheel Cookies
My country 'tis of Thee, sweet land of this cookie! For the red, white and blue, this cookies with sprinkles too, America, America this is you (do do do do). I mean really, I could go on and on. If you're looking for a colorful cookie to add to your picnic table this fourth of July weekend, these firework-inspired pinwheel cookies are just what you need. This summer treat is easy to make, perfect for outdoor BBQs, and more American than apple pie.
Fourth of July is one of my favorite holidays to celebrate every year. I always take the week off to spend down the Cape, which means lots of boating, beaching, and BBQs. It's also my mom's birthday on the fourth, so we always have lots of family and friends over to the house for an all-day cookout. And I'm always looking for new ways to up the ante on the dessert table. I made one of those American flag cakes one year, but as we know patience is not a virtue I possess, so I wanted to create something this year that was a lot simpler, but equally as visually appealing (and delicious).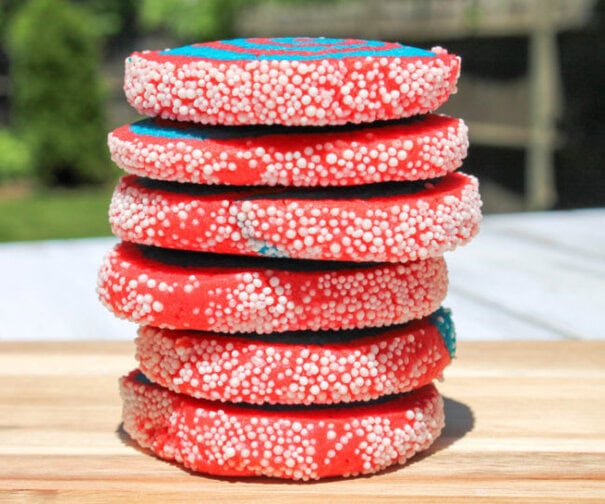 I decided to adapt my Peppermint Pinwheel cookies from this past Christmas season, since the swirl made me think of summer fireworks. I swapped out the peppermint extract and added in extra vanilla extract in it's place. I decided to use red and blue food gel to color the dough, and then roll the cookie dough in white nonpareils to add that outer crunchy layer and complete the red, white and blue trifecta.
In trying to set the scene for taking these photos I set up shop in my backyard, and can't believe I hadn't done this sooner, since I am always looking for natural light anywhere in my house – and the backyard was chock full of sunshine when I was shooting this recipe. These cookies will definitely withstand sitting on the dessert table in an outdoor cookout and are easy to transport, which makes them a perfect treat for this weekend's celebrations.
The one thing to note about these cookies, is to get that perfect cookie swirl, you're going to have a bit of leftover dough after you trim all the edges. I recommend rolling the extra dough together and creating some hippy dippy tie-die inspired cookies. I would show you pictures of how mine came out, except I ate the extras. Because they were tiny and no matter how many you eat it never adds up to a full size cookie. Like munchkins. Trust me, it's science.
So bake up a batch of these star-spangled cookies this holiday weekend to celebrate the land of the free and the home of the brave. America!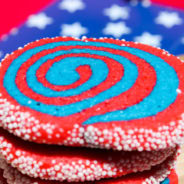 Firework Pinwheel Cookies
Yield: 24-30 cookies
Prep Time: 2 hours 30 minutes
Cook Time: 15 minutes
Total Time: 2 hours 45 minutes
These red, white and blue sugar cookies are the perfect way to brighten up your picnic table for Memorial Day or Fourth of July!
Ingredients:
1 cup unsalted butter, softened
1 cup sugar
1 egg
2 teaspoons vanilla extract
3 tablespoons cream
2 1/2 cups all-purpose flour
1/2 teaspoon salt
1 teaspoon baking powder
Red gel food coloring
Blue gel food coloring
White sprinkles
Directions:
In a stand mixer or large mixing bowl, cream together the butter and sugar until fluffy. Add in the egg, vanilla extract and beat well.
Add in the cream (you can also substitute milk here) and mix well. Scrape down the sides of the bowl before incorporating the dry ingredients.
Sift together the flour, baking powder and salt. Slowly mix the dry ingredients into the wet batter mixing just until they are fully incorporated.
Remove half of the mixture from the bowl and set aside. Add the red food coloring to the remaining dough, beating until fully combined. Repeat in a separate bowl with the remaining dough and blue food coloring. I prefer the gel food coloring because it is more potent and presents the best color.
If the dough is sticky at this point, you can chill for 20 minutes to make it easier to handle. Otherwise, roll out the dough on a floured surface until it is rectangular and about 1/4 inch thick. Do the same for the other half of the dough. I found that I needed to regularly flour the dough and the countertop since this part is tricky. Rolling out the dough on a large sheet of wax or parchment paper helps as well.
Lay the red piece of dough onto a piece of parchment paper. Carefully lay the blue colored piece of dough on top. Use a sharp knife or a pizza cutter to trim the edges so it is a nice rectangle. You can use the excess dough to make other cookies that are more hippy dippy than perfect swirls, but still delicious.
Roll the dough into a log, taking time to roll the dough as tightly as possible to create the optimal swirl.
Place a generous amount of white sprinkles in a shallow dish. Roll the cookie dough log in the sprinkles until you have an even coating on the outside. I recommend using non-pareil sprinkles for ease of use.
Wrap the dough log tightly with saran wrap and refrigerate for at least two hours.
Preheat the oven to 375 degrees F. Using a sharp knife, slice the dough into half-inch slices and place on a sil-pat or parchment-lined baking sheet at least 1-inch apart.
Bake for 12-14 minutes at 375 degrees F until the edges are lightly golden, but be careful not to overcook. Let the cookies cool on the cookie sheet for a few minutes before transferring to a wire rack to finish cooling. Enjoy!