Salted Chocolate Chip Cookies
While most of us are unhappily accepting the end of summer (and the end of social acceptance for wearing white pants again until Memorial day), I've got an extra sweet recipe to brighten up this very Monday-like Tuesday. I've joined up with my friends at OXO again to bring you a delicious recipe for a great cause. This recipe for Salted Chocolate Chip Cookies is from Dan Kluger, chef and owner of Loring Place in NYC, to benefit Cookies for Kids' Cancer.
OXO has been a brand I've loved for a long time and gradually stocked the majority of my kitchen up with many of their great products. I'm happy to partner with a brand that I not only genuinely love their products, but I really respect what they stand for. So I am excited to once again be partnering with OXO to support Cookies for Kids' Cancer , the national non-profit organization dedicated to funding research for safer, more effective treatments for pediatric cancer, the #1 disease killer of children in the U.S. OXO is partnering with chef-supporters of Cookies for Kids' Cancer who are providing recipes we hope will inspire people to host their own Cookies for Kids' Cancer bake sales. Join in the Cookies for Kids' Cancer challenge by registering your event online; if you mark that you were inspired by OXO when you register, they'll match proceeds from your bake sale up to our annual commitment!
I used a few of my tried and true OXO products to bake up this batch of cookies. The 11″ Balloon Whisk is perfect for combining the butter, sugars, vanilla and eggs – especially when I don't want to whip out the electric mixer. I love the Non-Stick Pro Half Sheet Jelly Roll Pan, because I can easily fix at least 8 larger cookies on a tray. OXO's Silicone Baking Mat non-stick surface cuts down on clean-up and withstands dough, grease and other cooking residue. And if you haven't been using a cookie scoop when you portion out cookie dough, then the Small Cookie Scoop will change your life. This helps cookies bake evenly across the sheet so that you have a perfect batch every time.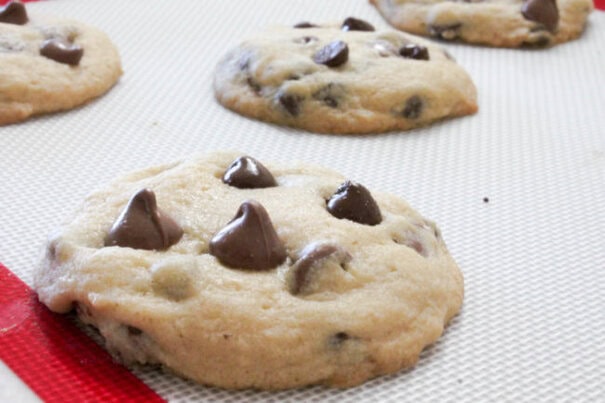 This recipe was simple, but delicious. I'm a sucker for sweet + salty, so I love using high quality chocolate and topping cookies with flaked sea salt. In his recipe, Dan recommends using chocolate feves instead of chocolate chips. Feves are larger chocolate disks that make for great layers of chocolate in the cookies, they also tend to be made with higher quality chocolate. I couldn't get my hands on any affordable feves (if they even exist in an affordable way), but with Ghirardelli milk + dark chocolate chips, these turned out delicious. You could also coarsely chop up high quality chocolate bars as well. 
When I bake cookies on a sil-pat, I like to underbake them just slightly in the oven, and then let them sit on the tray for about 5 minutes before transferring to a wire rack to cool. I like the consistency when it's justttttt cooked in the center, but not crisp. Soft, salty, sweet chocolate chip cookies are my jam.
When I made these, I actually was on auto-pilot and put the salt in the cookies instead of sprinkling it on top – but they still had the delicious flavor. What I like to do (when I'm not sleep-baking) is to top each of the balls of dough with a few extra chocolate chips and a sprinkle of sea salt before baking. It not only makes the cookie more photogenic, but also packs in as much chocolate as the dough can physically hold.
So the next time a chocolate craving (or craving to help a good cause) strikes, bake up a batch of these Salted Chocolate Chip Cookies from Dan Kluger and donate to Cookies for Kids Cancer to support a great organization helping kids.
Disclaimer: This is a sponsored post written by me on behalf of OXO.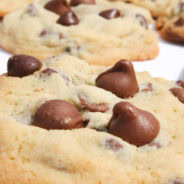 Salted Chocolate Chip Cookies
Yield: 48 Small Cookies
Prep Time: 1 hour (Including 30 minutes to chill dough)
Cook Time: 10 Minutes
Total Time: 1 Hour 10 Minutes
Adapted from Dan Kluger's Salted Chocolate Chip Cookie recipe.
Ingredients:
1 cup (2 sticks) butter, room temperature
3/4 cup granulated sugar
3/4 cup light brown sugar
2 eggs
1 teaspoon vanilla extract
1/2 teaspoon baking soda
1 1/4 teaspoon salt
2 1/2 cups all-purpose flour
1 cup dark chocolate chips
1 cup milk chocolate chips
Coarse sea salt
Directions:
Lightly cream butter and sugar. Try not to incorporate too much air.

Add eggs one at a time, mixing after each until smooth.

Add vanilla, baking soda, and kosher salt.

Add flour and chocolate chips, mixing just until combined. 

Refrigerate cookie dough for a half hour before portioning. Use a 1 oz cookie scoop or aim for balls that are about 2 tablespoons in size. Sprinkle with a little coarse sea salt.

Bake at 350 degrees F for 7-8 minutes, depending on your oven. The cookies will turn golden brown at the edges. They should still be slightly puffy in the middle, but starting to color in the middle as well.