Peanut Butter Oatmeal M&M Cookies
With Valentine's Day right around the corner, I've got one more perfect sweet treat to spread the love this year. These Peanut Butter Oatmeal M&M Cookies are the perfect balance of soft and chewy, with crunchy oats and M&M candies that you will go full-blown cartoon heart eyes with just one bite.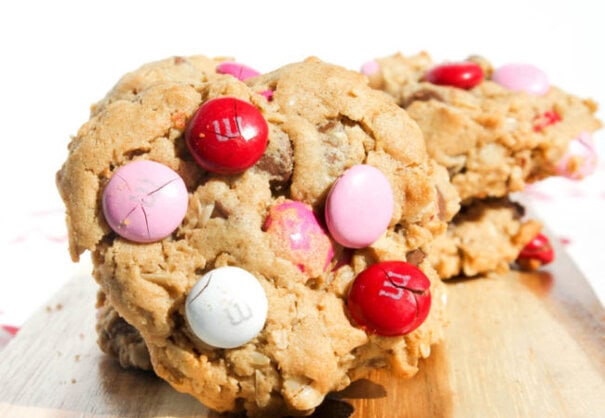 Valentine's Day. Love it or hate it, there's one thing we can all agree on as a positive this February 14th: a perfect excuse to eat more candy. It's like the Halloween of winter. Judgement free candy indulging any time of day. Fist-full of pink M&Ms with your morning coffee? Heck yeah. Biting an entire box of Russel Stover's chocolates in half just to see what the inside is? We've all been there. So when people get all high and mighty about how they hate this Hallmark holiday, all I say is go out and buy yourself some chocolate and enjoy the sweet things in life. And this comes from a 30-something single who once thought having a first-date on Valentine's Day was a wicked smart idea because then my boyfriend would only have to remember one special day a year. That worked out really well for me now didn't it.
But on a much sweeter note, let's remember the good things that Valentine's Day brings with it. First, chocolate, obviously. Second, Valentines. Remember when you were little and everyone had to give Valentines out in elementary school? I got some sweet Teenage Mutant Ninja Turtle ones when I was younger. Third, and most important, a lot of people are reminded to tell people they love them on Valentine's Day. And while I don't think people should need a reminder to do this once a year, I can appreciate the whole Love is actually around sentiment.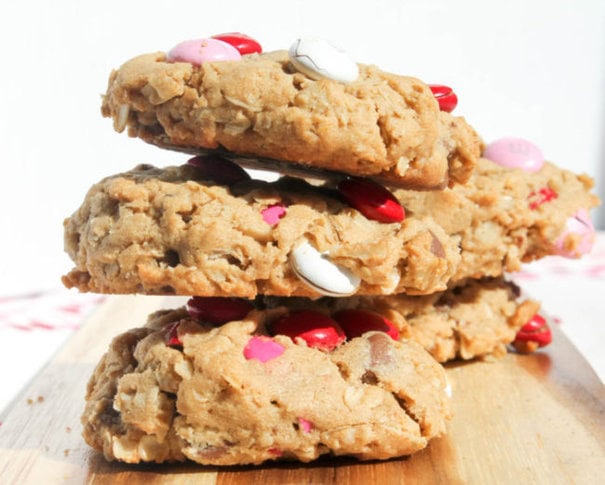 I've had a few very memorable Valentine's Days of my own in the past few years as a single gal. The first year I went on a cruise to Mexico with my sister. Two years ago, and probably my favorite of all Valentine's Days, I impulsively booked a Vegas trip to see Britney Spears with two of my girlfriends, and that's where we met the word's drunkest lady on our flight home, who we lovingly nicknamed: Party Marg. I'm not too worried about Valentine's Day this year. I already got a bunch of sweet cards in the mail (thanks Mom) and made plans on Tuesday night to see 50 Shades Darker at one of those swanky dine-in movie theaters.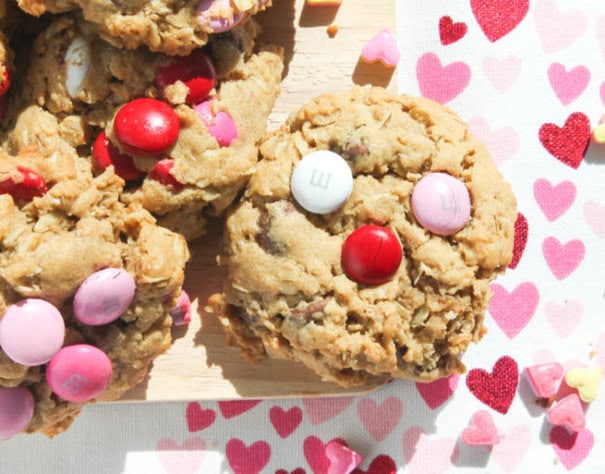 If I had more time before my flight tomorrow, I'd probably whip up another batch of these Peanut Butter Oatmeal M&M cookies for my coworkers in Florida just to be sweet. Peanut Butter and M&Ms are two of my favorite things, and since it's less socially acceptable to stick M&Ms on a spoonful of PB and eat it (don't pretend you haven't been there) these cookies are the perfect judgement-free way to indulge this time of year.
So if you're looking to spread the love this year and be a V-day lover, give your friends cartoon heart eyes with a batch of these perfect Peanut Butter Oatmeal M&M cookies!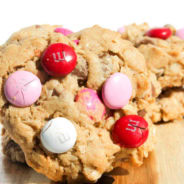 Peanut Butter Oatmeal M&M Cookies
Yield: 20-24 Cookies
Prep Time: 15 Minutes
Cook Time: 15 Minutes
Total Time: 30 Minutes
The perfect M&M cookie, with crunchy oats, smooth peanut butter and M&M candies.
Ingredients:
1 stick butter, softened
1 cup light brown sugar
1/2 cup creamy peanut butter
1 teaspoon vanilla extract
1 egg
3/4 cup all-purpose flour
1/2 teaspoon salt
1 teaspoon baking soda
1 1/2 cup old-fashioned oats
1/2 cup milk chocolate chips
1 cup M&Ms
Directions:
Preheat the oven to 350 degrees F. In a medium bowl mix together the flour, salt, and baking soda and set aside.
In a large mixing bowl, beat together the butter and light brown sugar until creamy. Add in the egg and vanilla and mix well. Scrape down the side of the bowl before adding in the dry ingredients.
Slowly mix in the dry ingredient mixture until just combined. Add in the oats and mix until incorporated.
Fold in the chocolate chips and M&Ms until evenly distributed.
Use a medium cookie scoop to place even-sized balls of dough at least 2 inches apart on a sil-pat or parchment-lined baking sheet. Add a few extra M&Ms to the top of each cookie before baking. Bake at 350 degrees F for 11-13 minutes, or until the edges are golden brown.
Let the cookies sit on the tray for a few minutes to set before transferring to a wire rack to finish cooling. Enjoy!