Strawberry Chocolate Chip Muffins
I love strawberry season. The farmers markets and grocery stores are overflowing with perfectly ripe strawberries in bulk. And if you know me, you know I can't resist a good deal. Especially if it's a BOGO on quarts of strawberries. But I hate when I overbuy fruit and some of it goes bad, so I've been working on a bunch of fresh fruit recipes to make sure you get the best use out of all of your fresh fruits this summer. And I've got the perfect breakfast recipe to put those fresh strawberries to good use with these Strawberry Chocolate Chip Muffins.
Strawberries and chocolate has typically been a decadent combo reserved for dessert. But who says you can't enjoy a little chocolate first thing in the morning? These muffins are bursting with fresh strawberry flavor, hints of sweet milk chocolate and topped with a crunchy streusel topping that will send your taste buds into overdrive.
So while strawberries are undoubtedly delicious, having a giant bowl of berries can seem a bit daunting to prep when you have to hull and slice each one. But have no fear, there's an innovative kitchen tool that takes the hard work out of coring and slicing strawberries. When I attended the Indulge Conference in Portland in April, I met one of the PR reps for KitchenIQ, a company that makes some pretty cool and innovative kitchen tools. After the conference, a package arrived at my door filled with new kitchen gadgets to try, which was totally a Christmas morning moment for a food blogger. And this Strawberry Tool was one of the first gadgets I knew I needed to try out.
All you do is pick the stem off, then put the top of the strawberry on top of the tool, twist around and voila! the strawberry is hulled. Lift the lid, and pull the slicer down and you have a perfectly sliced strawberry. There's even a strong little gripper on the bottom of the tool to keep it in place as you're hulling and slicing away.
Especially living in a city condo, I am always hesitant to bring new devices into my limited kitchen space unless they have a real use. But I can definitely say that this Strawberry Tool is going to get a lot of good use this summer in my kitchen. My head is already filling with new delicious strawberry recipes to try now that I know how fast and easy it is to prep my strawberries.
But back to these muffins. I love fresh muffins in the morning. Especially when there's a crunchy topping to them, and then a soft flavorful muffin base. Blueberry is usually my go-to but I believe you can modify your base muffin recipe with pretty much any fresh fruit, or combination of, and end up with a delicious treat.
Muffins are a great way to use fresh fruit in the summer because they store well in the fridge for a few days or even frozen if you wrap them up well, and I love toasting or microwaving a muffin to enjoy it hot in the morning. With the milk chocolate chips inside, these muffins even make for a great after dinner summer dessert or sweet mid-day treat. So the next time you find yourself with a a surplus of strawberries, whip up a batch of these fresh Strawberry Chocolate Chip muffins and enjoy the sweet treat!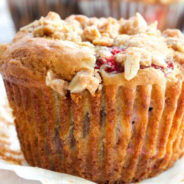 Strawberry Chocolate Chip Muffins
Yield: 10 Jumbo Muffins
Prep Time: 25 Minutes
Cook Time: 25 Minutes
Total Time: 50 Minutes
A perfect use for fresh summer strawberries and a good excuse to eat chocolate in the morning!
Ingredients:
Muffins
1/2 cup (1 stick) butter, softened
1/2 cup granulated sugar
1/4 cup light or dark brown sugar
2 eggs
1/2 cup plain Greek yogurt
2 teaspoons vanilla extract
1 3/4 cup all-purpose flour
1 teaspoon baking soda
1 teaspoon baking powder
1/2 teaspoon salt
1 1/2 cups chopped fresh strawberries
1 cup milk chocolate chips
Streusel
1/4 cup granulated sugar
1/4 cup light brown sugar
1/4 cup all-purpose flour
1/4 cup old fashioned oats
4 tablespoons melted butter
1/2 teaspoon vanilla extract
1/2 teaspoon cinnamon
Directions:
Preheat the oven to 425 degrees F. Line 10 jumbo muffin pans with paper liners and spray with non-stick spray.
In a large mixing bowl, use an electric mixer to beat together the butter and sugars. Beat in the eggs, greek yogurt and vanilla extract until creamy. Scrape down the side of the bowls before adding the dry ingredients.
In a separate bowl sift together the flour, baking soda, baking powder and salt. Using a wooden spoon, slowly incorporate the dry ingredients into the wet batter just until incorporated.
Fold in the fresh chopped strawberries and chocolate chips just until evenly distributed, being careful not to overmix. Evenly fill the 10 muffin cups up to almost the top of the tin.
To make the streusel topping, mix the melted butter, sugars, flour, oats, cinnamon and vanilla extract together using a fork. Evenly distribute the streusel among the muffins.
Bake at 425 degrees F for the first five minutes. This will help to ensure a crunchier muffin top. Reduce the heat to 350 F and bake for 18-20 minutes until golden brown.
Let the muffins cool on top of the oven for a few minutes before serving. Enjoy!