Peppermint Mocha Cookies
On the 12th day of Christmas my true love gave to me, twelve peppermint mocha coooooookiieessss! Some people (elves) say that the best way to spread Christmas cheese is singing loud for all to hear. That's false. The best way to spread Christmas cheer is by baking, eating, and sharing as many cookies as possible. And if you are looking for a last minute cookie recipe to finish off your cookie trays this Christmas Eve then you're in luck. Inspired by a holiday indulgence at Starbucks, these Peppermint Cookies taste even better than the mocha choca latte in those controversial red cups.
The base cookie is chewy and fudgy, and chock full of delicious peppermint flavor. I'm a big fan of Ghiradelli Peppermint Bark in all forms – eating it plain or baking it in recipes (or melting a piece in the bottom of a cup of hot cocoa, yum!) And I've been using the peppermint bark in other recipes this holiday season already like my Peppermint Magic Cookie Bars. It's the perfect balance of chocolate and mint, and is totally melt-in-your-mouth delicious.
And if you may have been a little naughty this year and need to sway Santa's opinion to get you on the guaranteed Nice list tonight, I recommend leaving a plate of these by the fireplace tonight. Not for Rudolph though, we all know reindeers can't eat chocolate or get hopped up on espresso.
I have to admit that with these mild temperatures and lack of white stuff on the ground (I dare not speak that dreaded four letter word in Boston after last year) it doesn't really feel like Christmas. Especially combined with the fact I've been on a crazy work travel schedule lately commuting to Florida where the heat and humidity are forcing me to incorporate some lighter colors into my emo all-black Boston consultant wardrobe, it most definitely doesn't feel like Christmas down there either. It wasn't until I spent the other day baking up about eight batches of my favorite Christmas cookies that I really started to finally get into the Christmas spirit.
Pizzelles, browned butter holiday M&M cookies, rice krispie treats, tree-shaped spritz cookies, Andes mints cookies, and Peppermint Magic Bars are just some of the many recipes I've baked this week to put on my cookie trays for Christmas Eve and Christmas Day. What I love about these Peppermint Mocha cookies is that the chocolatey base has the deliciously smooth espresso flavor that blends so well with chocolate, and then the lingering peppermint taste fills your heart and soul with Christmas spirit with each bite. Maybe a little bit of an exaggeration, but I did hear that the grinch took one bite and his heart grew three times its size.
While I also understand that making your own peppermint bark is something that as a baker I should really be all over, Ghiradelli Peppermint Bark is so delicious and so much quicker than making my own that it's been a great addition to holiday recipes this year. It also holds up really well in the oven, even when it's not mixed in to the middle of the cookie dough. When baking these cookies you need to keep an eye on them in the oven, like with any chocolate based cookie, where seeing golden edges is much more of a challenge. It's better to have them a little undercooked and let them set on the tray after taking them out of the oven, than risking overbaking.
The only thing missing from this cookie to make it truly filled with holiday magic would be some whipped cream. The cookies are sturdy enough that if you are looking to amp up the flavor of these, stick a scoop of peppermint ice cream in between two and you've got yourself one pepperminty ice cream sandwich. That actually sounds so good that if it was quick enough for me to get ice cream right now without leaving the house I would be all about that.
So if you're looking for a way to really get into the holiday spirit this year, and dreaming of a white Christmas hasn't become a reality, bake up a batch of these Peppermint Mocha Cookies and you'll be holly jollying fa la la la la'ing until Santa Clause comes to town! Merry Christmas to all and to all a Pepperminty night!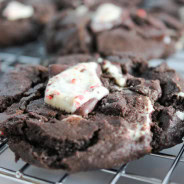 Peppermint Mocha Cookies
Yield: 32 cookies
Prep Time: 45 Minutes
Cook Time: 10 Minutes
Total Time: 55 Minutes
Ingredients:
1 stick butter, softened
1/2 cup granulated sugar
1/2 cup light brown sugar
1 egg
1 teaspoon vanilla extract
1 teaspoon peppermint extract
1 cup all-purpose flour
1/2 cup plus 2 tablespoons cocoa powder
1 teaspoon baking soda
1/2 teaspoon salt
2 teaspoons instant espresso powder
1 cup milk chocolate chips
13 Ghirardelli Peppermint Bark Squares, coarsely chopped
Directions:
In a large mixing bowl, cream together the butter and sugars until creamy. Mix in the egg, vanilla extract and peppermint extract and blend until smooth.
Sift together the flour, cocoa powder, baking soda and salt. Slowly add the dry ingredients to the wet batter just until fully incorporated.
Add in the espresso powder and mix well.
Fold in the chocolate chips and the chopped peppermint bark until evenly distributed, keeping about a quarter cup of the bark on reserve to top the cookies with.
Chill the dough for at least 30 to 60 minutes.
Preheat the oven to 350ºF. On a sil-pat or parchment-lined baking sheet, use a medium cookie scoop to place even sized balls of dough at least an inch apart. I fit 8 cookies per sheet since they do expand.
Top each cookie dough ball with some chopped up peppermint bark and press down lightly with your fingertips. Bake at 350ºF for 9-10 minutes, letting them set on the cookie sheet for a few minutes before transferring to a wire rack to cool.