Peppermint Magic Cookie Bars
Oh ho ho it's magic, you know! And let me tell you, these Magic Peppermint Cookie Bars really live up to their magical name. Imagine all of your favorite holiday flavors – gingersnap, coconut, pecans, peppermint, chocolate – all jam packed and living happily together in perfect harmony in one delicious cookie bar. Well dreams do come true, because everything you could want in one cookie is a reality in these magic bars.
Seven Layer Bars (aka Magic Cookie Bars) have been a favorite of mine since I was really little, for many reasons. First, my uncle used to always make these at Christmas every year and it was one of the only cookies you could eat part of from the top and no one would catch you. I loved eating off some of the toasted nuts and chocolate chips that are loose on top when no one is looking (and I still do that). Second, there is little skill required to bake these cookies. Layer up the ingredients one at at time, put them in the oven, bake, cool, eat. Easy peasy. And let's be real here … we could ALL use something easy in our lives around the holidays.
I was inspired in the fall when I made the Pumpkin Magic Cookie Bars with pumpkiny fall flavors to start experimenting even more with this cookie bar recipe. So I started thinking about how to holidaze this cookie to get it ready for Christmas. I swapped the traditional graham cracker crust for a gingersnap crust, made up of crushed gingersnap cookies and melted butter. Yum.
Then I drizzled on a can of sweetened condensed milk. I am pretty sure that's where the magic comes from in these bars. On top of that ooey gooey goodness I sprinkled on some white chocolate chips, coconut and pecans – which need to be near the top of the bars so that they can get nice and toasty. I recommend throwing a few extra on since those are easiest to sneakily pick off from the top and eat while you wait for them to cool. I also added in some milk chocolate chips just because I firmly believe you can do no wrong with a little extra chocolate in your life.
And for the pièce de résistance, I chopped up some Ghirardelli milk chocolate peppermint bark squares and sprinkled the pieces all over the top. And heaven and nature sing! And heaven and nature sing! and heaveeeen and heaveeeeen and nature singgggg! Seriously, that's what happens in your head when you take one bite of these magically delicious holiday cookie bars.
These are definitely going to be on my annual holiday cookie baking list. I have already made them twice this year. They are a great base to a holiday cookie plate, can be frozen and enjoyed at a later date, are delicious warm or chilled, hand-held or with a fork, and every time you eat one an angel gets its wings. I think. Don't quote me on that. Joyyyy to the world, peppermint magic bars are here!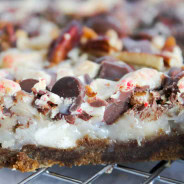 Yield: 24 cookie bars
Prep Time: 10 Minutes
Cook Time: 30 Minutes
Total Time: 40 Minutes
Ingredients:
1 1/2 cups gingersnap crumbs
1/2 cup (1 stick) butter, melted
1 14-oz can sweetened condensed milk
1 cup white chocolate chips
1/2 cup milk chocolate chips
1 cup shredded coconut
1 cup chopped pecans
12 Ghirardelli Peppermint Bark Squares, chopped
Directions:
Preheat the oven to 350ºF. Line a 13x9 glass baking dish with parchment and spray generously with nonstick spray.
Crush gingersnap cookies in a food processor until they are fine crumbs. Combine the melted butter and gingersnap crumbs and press down firmly and evenly in the prepared baking dish
Drizzle the sweetened condensed milk to evenly coat the crust. Layer on the white chocolate chips and milk chocolate chips.
Layer on the chopped pecans and top with the chopped up peppermint bark. Press the bars down firmly before putting in the oven to bake.
Bake at 350ºF for 30 minutes and let them cool on top of the stove before putting them in the fridge to chill. This will make it much easier to cut. Enjoy warmed up or chilled.